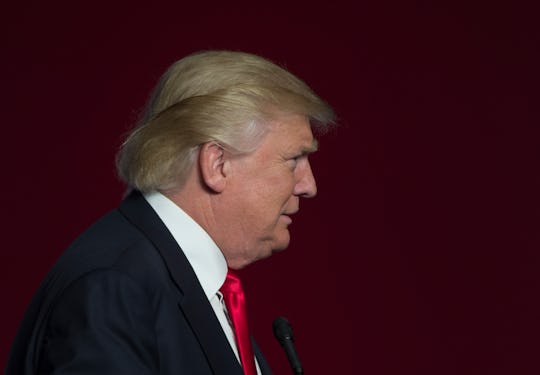 MOLLY RILEY/AFP/Getty Images
Donald Trump's Tweets About The Orlando Shooting Show The Wrong Way To Respond To Tragedy
As soon as news was released that a shooter entered gay Florida nightclub Pulse and killed 50 people, and wounded over 50 more, it was clear that politics would soon get involved. And it wasn't long before politicians like Hillary Clinton and President Obama released statements mourning the victims. Unfortunately, though, once Donald Trump tweeted about the Orlando shootings, the rhetoric and conversation surrounding the terror attack began to take on a much more disappointing tone.
(Update: The FBI has updated the death toll to 49 victims. The shooter was also killed.)
The presumptive GOP nominee for president has already fielded backlash surrounding his swift response on Twitter, telling followers that he appreciated being told "congrats" for his views on Islamic terrorism. Note: this was long before we even had a confirmed motive for the shootings, which is still being sussed out by authorities. (ISIS has claimed responsibility for the shootings, and reports claim that the shooter had pledged allegiance to ISIS, but nothing has been confirmed about his exact ties to the terror organization yet.) The self-congratulatory tweet clearly attempted to underscore Trump's controversial stance on terrorism — which includes racial profiling and calling Syrian refugees possible terrorists in disguise — and led to many negative responses directed at the future likely nominee.
First, here's Trump's tweet:
And led to responses like these:
Even those in Trump's own party couldn't help but object to his words.
Not to mention the fact that Trump's tweet was in stark contrast to statements released by other politicians, including Obama, who used his time addressing the American public to call for unity, no matter what our backgrounds. As Obama said:
This is a sobering reminder that attacks on any American, regardless of race, ethnicity or sexual orientation is an attack on all of us. And on the fundamental values of equality and dignity that define us as a country. And no act of hate or terror will ever change who we are or the values that make us Americans.
But Trump didn't stop there. After fielding criticism for his tweet, the presumptive nominee let out more 140-character commentary, calling for Obama to follow in his footsteps.
Spoiler alert: He didn't.
But Trump is still not done, and likely will not be for the rest of the day. Even as Obama ordered flags at half-mast to mourn the victims, Trump continued to focus on his campaign, implying to followers in light of the tragedy that only he could prevent such attacks in the future.
And that is exactly how not to respond to a tragedy, kids.