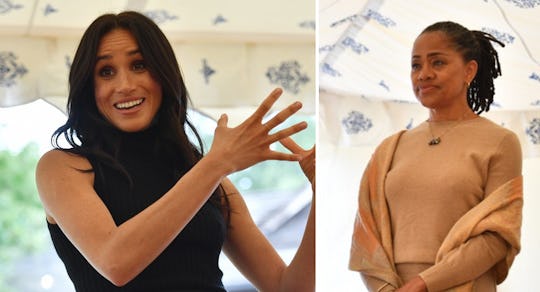 WPA Pool/Getty Images Entertainment/Getty Images/ WPA Pool/Getty Images Entertainment/Getty Images
Meghan Markle's Mom Was Beaming With Pride & Joy At Her Daughter's First Royal Speaking Event
Every girl just needs her mom sometimes... especially if you're a new royal trying to take on your first official solo charitable assignment. So it was such a treat to see Doria Ragland absolutely beaming with pride at Meghan Markle's first royal speaking event, just like every proud mom would be.
For her very first center-stage project, the Duchess of Sussex (that's Markle's new title following her marriage to Prince Harry this past May) chose a luncheon to launch her charity cookbook, Together: Our Community Cookbook, according to People.
And the luncheon included one very special guest and super-proud parent, Doria Ragland, who had flown in from Los Angeles, earlier in the week, as People reported, just to support her daughter. Aww!
"I had just recently moved to London and I felt so immediately embraced by the women of the kitchen," Markle told the guests at the kickoff luncheon for the project on Perk's Field, an outdoor area outside Kensington Palace, as Vanity Fair reported. "Your warmth and your kindness, and also to be in this city and see in this one small room how multicultural it was."
Arriving at the event, Duchess Meghan emerged from a Land Rover with her mom and Harry by her side, according to the Daily Mail. Ragland, clearly a natural, got to work greeting people, according to paper, saying, "Hi, I'm Meg's mom," to guests.
Baroness Gail Rebuck, chair of publisher Penguin Random House told Ragland she must feel "very proud" of the Duchess of Sussex and her work on the cookbook, according to People, to which Ragland replied:
Head over heels.
Markle's gift for socializing — on display as she greeted guests, helped cook and kissed participants on the cheek, according to Harper's Bazaar — may have well come from her mom. Ragland easily mingled at the event, asking guests about individual recipes and ingredients, according to the Daily Mail.
Markle's new project (for which she did the forward) involves the remarkable true story of West London's Hubb Community Kitchen, as detailed on the book's description on Amazon. After London's devastating Grenfell Tower fire in 2017, in which 72 people died and 151 apartment units were destroyed, according to the BBC, one positive thing came out of the ashes: Locals started to cook together, eager to make fresh food for their own families, and for neighbors affected by the tragedy. Soon, women and families from different cultures were trading life stories over the stove and around the dinner table.
"I felt, on a personal level, so proud to live in a city that can have so much diversity. That there are 12 countries represented in this one small room, is pretty outstanding," Markle told the crowd, according to USA Today, which included guests from London's Al Manaar Muslim Cultural Heritage Centre. Fifty recipes are included in the tome, as noted by USA Today, ranging from Coconut Chicken Curry to Eggplant Masala, Persian Chicken with Barberry Rice and Caramelized Plum Upside-Down Cake. (Where's my Prime account right this second to get this???!)
And in case you were wondering, according to the Daily Mail, it's never really been a thing for a non-royal-in-law to attend official royal engagements. This is pretty much a first, and indicates a decision to try new ways of doing things in the royal family, as a new docuseries about the Queen seems to suggest.
I was incredibly touched by watching Markle and Prince Harry's wedding and seeing how every effort was made by the royal family to include Ragland, a single mom and commoner from across the ocean, as Town & Country detailed, including the epic moment when the parents of the bride and groom left the church, their arms locked.
The fact that Duchess Meghan's making sure her proud mama gets to be part of her evolution as a public figure seems like a real happy ending to me.