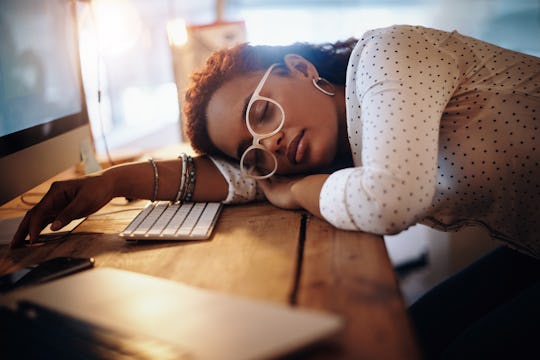 PeopleImages/E+/Getty Images
7 Interesting Things It Could Mean If You've Ever Dreamt That You're Pregnant
Dreaming that you're pregnant can be alarming if having a baby isn't part of your immediate plans, but bump-centric dreams aren't necessarily what they seem. Whether you're thinking about becoming pregnant, are pregnant, or are so totally done having kids, pregnancy dreams can pop up at any time in your life — and they don't always have anything to do with kids.
"Dreams of being pregnant, whether we are or not, are fairly common, especially at different ages," Elisa Robyn, Ph.D., a licensed psychologist, tells Romper. "Women in their 20s, 30s, and 40s often dream of being pregnant as a way of sorting out their feelings about having a child."
"As Sigmund Freud, the original psychoanalyst explained, dreams are a reflection of wish-fulfillment so our dreams can represent a deep wish for us," Shuli Weiner, Psy.D., a clinical psychologist, tells Romper. So oftentimes, those dreams are telling you what you might already know: You want to have a baby. But you might find that the pregnancy dreams you're experiencing at night have nothing to do with baby bottles and carriages and everything to do with your own subconscious hopes, dreams, aspirations, and fears.
If you're rocking a bump during your dreams, here's what those pregnancy dreams might really be trying to tell you.
This article was originally published on