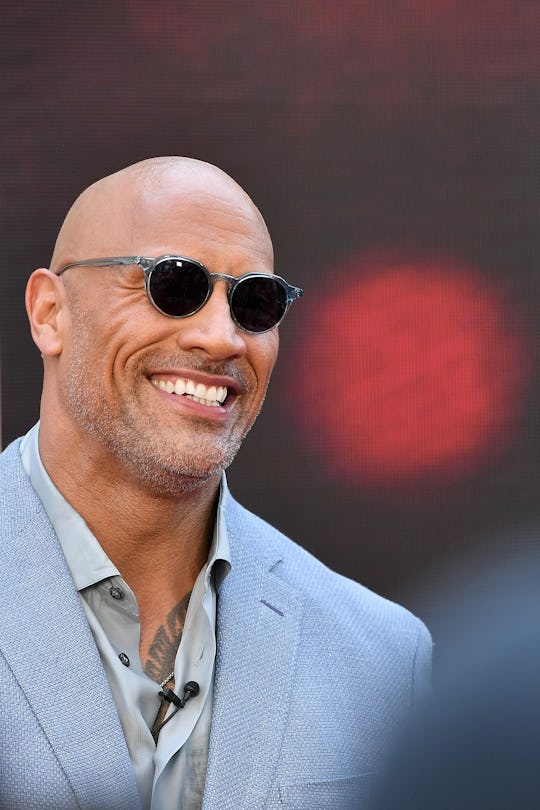 Michael Loccisano/Getty Images Entertainment/Getty Images
This Video Of Dwayne "The Rock" Johnson Singing To His Baby Girl Will Make Your Heart Flutter
Dwayne "The Rock" Johnson is nothing if not a proud dad. Well I guess he's also a retired professional wrestler and an actor and all that. But when I sit around contemplating my unrequited crush on him, mostly I just think of him as a doting father. Do you think that's wrong? Please enjoy a short clip of Dwayne Johnson singing "Happy Birthday" to his baby girl and then get back to me, won't you?
The Rampage actor is the father of three girls: 16-year-old Simone from his first marriage to Dany Garcia and 2-year-old Jasmine and 6-month of Tiana with girlfriend Lauren Hashian, according to Marie Claire. While Johnson isn't one for posting constantly about his daughters, when he does post a moment or two he makes it count. Sort of the way he seems to be in every corner of his life, actually.
For instance, when he and Hashian welcomed Tiana in April, according to People, Johnson announced her arrival with a picture of his new daughter cuddled up against his bare chest on Instagram. As if that wasn't compelling enough (and by the way, it definitely was), he also shared a powerful, beautiful message about being surrounded by "strong, loving women all my life."
Do you see what I mean now? Johnson's real life manliness is definitely his sweet spot, unrequited crush-wise.
Now that his youngest daughter is 6 months old, Johnson is back on Instagram again to share this major milestone. By singing "Happy Birthday" to her as she looked on, decidedly unimpressed. Maybe because it's not her birthday yet or maybe because he was wearing a tank top this time instead of going shirtless, who knows?
Johnson captioned the sweet video:
"Don't we all" 😈Happy 6 month Birthday to our lil' disrupter, Tiana Gia. We're a family of non-traditionalists so we celebrate everything.
The Moana star was sort of taking his chances by singing to his baby girl after what happened last time. On Oct. 3 he shared a picture of himself holding a sleeping Tiana and told a little story about how he sang her to sleep in the caption... with a messy result:
Me: Come here baby, daddy's gonna sing to you. Tiana Gia: Falls fast asleep by the time daddy sings the 2nd verse. Me: Good Lord my honey coated gravel voice is effective. I'm feelin' very good about myself right now. Tiana Gia: Proceeds to poo 💩.. BIG. Me: Questioning how I should interpret this entire emasculating situation.
So here's the thing; I generally don't subscribe to the whole "daddy's girl" or "daddy's little princess" thing myself. I find it vaguely off-putting and sort of old-fashioned, maybe because it seems to put little girls in this box where they need to be petted and adored rather than empowered. And maybe that's why I appreciate The Rock's approach to parenting. He seems perfectly content to appreciate his daughters as individuals.
As he captioned this photo he shared of himself and his daughter Jasmine in honor of International Women's Day:
She can be anything she wants. She can sit at any table. She can trailblaze a path, while humbly and gratefully recognizing those before her who paved the way.
He does all this while also being silly with his baby girl to celebrate her 6 month milestone. Ask me again why he's worthy of a crush?