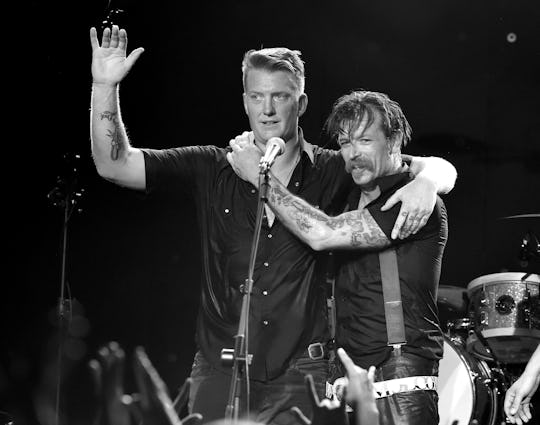 Eagles Of Death Metal Perform With U2 In Paris For First Performance Since The Bataclan Attack — VIDEO
On Monday night, U2 took to the stage of the AccorHotels Arena to play the last of their four latest concerts in Paris. At the end of their concert, they invited a surprise guest out to join them, and Eagles of Death Metal joined U2 onstage only three weeks after their own Paris concert was tragically ended by the terror attacks that shook the city — and their concert venue — on November 13 when over 130 people were killed by terrorists.
U2's famous sunglasses-clad frontman, Bono, introduced the band to raucous applause. As U2's set ended, he said there was "nothing left except to introduce you to some people whose lives will forever be a part of this city of Paris. These are our brothers. Our fellow troubadours. They were robbed of their stage three weeks ago, and we would like to offer them ours tonight. Would you welcome the Eagles of Death Metal!"
The California rock band poured onto the stage and hugged U2's band members before the two groups launched into a joint rendition of Patti Smith's "People Have the Power." After the performance, EODM frontman Jesse Hughes released a statement thanking U2 for all that they had done, saying, "They reminded us that the bad guys never take a day off, therefore we rock 'n rollers cannot either... and we never will." Hughes promised that the band would be back on tour in the coming year, and said EODM would take Paris stages once again as soon as February 2016.
This was the first performance Eagles of Death Metal has played since the fateful show they never got to finish in the Bataclan Theatre, and their quick return to Paris — along with U2 offering up their stage — resonated throughout Paris and beyond.
An audience member told the BBC, "It meant something for a lot of people — the locals and the French. When [EODM] said their goodbyes, I also saw tears on their faces. It was quite a night. Everyone was without words. I won't easily forget it."
On social media, support came in multiple languages, and the news was shared quickly.
On Facebook, user Emy Li commented, "My boyfriend and I were at the Bataclan. We spent 1h30 in the middle of the pit before being rescued by the special forces. We always think about the people who couldn't get up when they arrived... Thank you for coming back on stage only 3 weeks after. We know how hard this must be."
While some called the move an attention grab on U2's behalf, I think the move was a stunning way to uphold Paris' lively attitude and defiance after the attacks. Eagles of Death Metal also visited memorial sites for the victims of the Bataclan, which included one of their crew members.
Kudos to them for playing what must have been a difficult show — and filling it up with emotion and the life of music.
Image: Kevin Winter/Getty Images