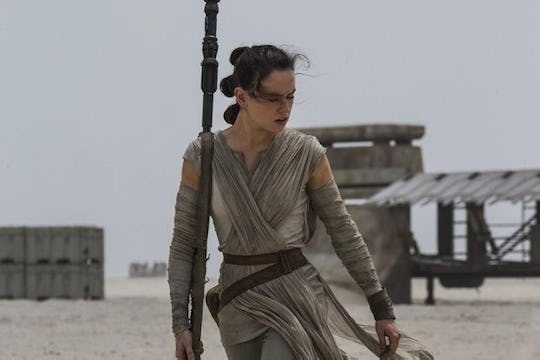 Lucasfilm
An Easy Kid's Rey Costume So The Force Doesn't Empty Your Wallet
Star Wars VII: The Force Awakens is still buzzing all over the world, especially this Halloween as everyone is scrambling to dress like their favorite character. Little kids are especially pumped and I'm sure there will be ton of tiny Reys wandering the neighborhood with their orange pumpkin buckets. But store-bought costumes aren't cheap, so finding an easy kid's Rey costume for your little Jedi should be at the top of your Halloween priority list.
Don't worry. You don't need any superb crafting skills or a sewing machine to whip this costume together. Rey has a pretty easy outfit to copy, but it's also important to remember that your kid's not trying to win a cosplay contest. They just want to dress like the amazing Rey and feel like they are part of the Star Wars cast on Halloween night. So with a little tricks and tips, you can turn them into the Jedi of their dreams.
Bonus: Pretty much everything you need can be reused in some way, even as regular clothing for your kids. So you're not wasting a ton of money creating a costume they'll only wear for one night. And one more cool thing? This costume is so easy to put together, it will inspire the entire family to turn into the franchise's cast so you can all trick or treat as the Rebel Alliance. (And some villains. Villains are always fun.) May the force be with you.