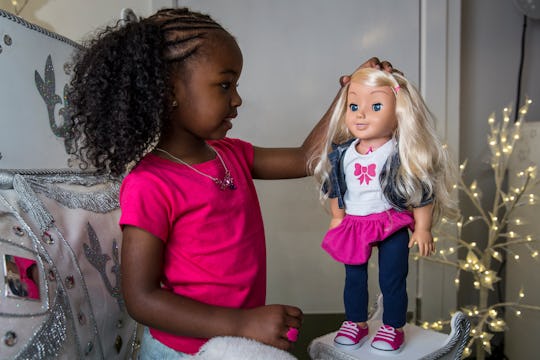 Rob Stothard/Getty Images News/Getty Images
California May Soon Ban These Types Of Toys
Nobody likes to feel like they're being watched. There's nothing worse than having a private conversation at a restaurant and you notice the next person is listening to you. You can tell by the way their body goes still. Oh wait, there is one thing significantly creepier than that: toys that can spy on you. In fact, one state in particular is concerned enough about so-called "eavesdropping" toys that they could be banned.
After receiving several complaints from consumer groups, the state of California looked at creating a new bill aimed at protecting children's privacy... from their toys. The two toys in question are the I-Que Intelligent Robot and My Friend Cayla doll (made by Genesis Toys), and it turns out both toys can collect personal information from children, much like in futuristic movies or several of my recurring nightmares. Compounding the issue, the toys reportedly send the data to a company that contracts with U.S. intelligence and the military (Nuance Communications), though, to be fair, that doesn't necessarily mean the military knows all your kid's secrets about which classmate they have a crush on, nor would they be able to, you know, use any of that. Romper has reached out to Genesis Toys for comment and is awaiting a response.
In response to what some claim is a violation of the Children's Online Privacy Protection Act (particularly as the information was reportedly shared without parental consent) Democratic Sen. Hannah-Beth Jackson authored California Senate Bill 327, a bill specifically aimed at protecting privacy from children's toys and any other home devices that might have spying capabilities. (Insert Kellyanne Conway joke here.)
Bill 327 would require companies to be granted consent from consumers before sharing their personal information, as well as clearly sharing in writing whether they will be collecting information and how they plan to use it. On Thursday, Jackson spoke with the media by phone to address the new bill, which is now on its way through California state legislature, according to BuzzFeed:
I embrace California's role as a technological innovator. But I'm concerned when [companies] advance without adequate disclosures, consumer information, safeguards, and knowledge of what the potential is with each of these devices.
Both of the toys in question are equipped with Bluetooth microphones, speakers, and a mobile application, according to CBS News. This would ostensibly only be used for the child and the doll or robot to interact. But in both cases, kids are also asked for permission to access Wi-Fi and hardware storage so that the toy can collect conversations.
Nuance was previously accused by consumer groups of using those recordings to improve its military products. However, Nuance Vice President of Corporate Marketing and Communications Richard Mack said in a blog post on the company's website that was simply not the case:
Upon learning of the consumer advocacy groups' concerns through media, we validated that we have adhered to our policy with respect to the voice data collected through the toys referred to in the complaint. Nuance does not share voice data collected from or on behalf of any of our customers with any of our other customers.
Whatever happens in California, one country has already made the decision to ban My Friend Cayla altogether: In February, Germany decided to ban the interactive doll completely. Here's hoping — for those kids in California that can't bear to part with their robot or Cayla doll especially — the back and forth gets resolved soon.