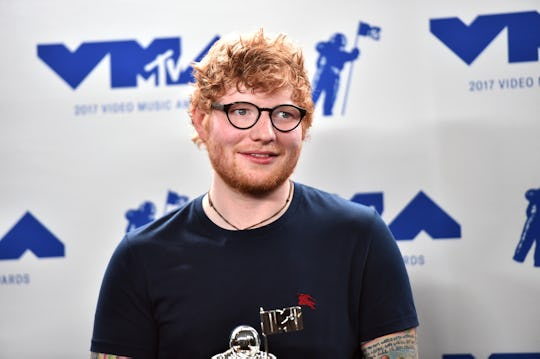 Alberto E. Rodriguez/Getty Images Entertainment/Getty Images
Ed Sheeran Announced His Engagement To Cherry Seaborn With The Most 'Perfect' Post
Do you love Ed Sheeran? Of course you do. Because you probably also love puppies and sunshine and soft pajamas. Loving the Grammy award-winning singer is just one of those natural things most people share, but it looks like we're all going to have to get in line behind a certain someone in the near future. Ed Sheeran announced his engagement on Saturday to his long time girlfriend Cherry Seaborn, and I bet I know what the first song at their wedding is going to be. I bet it's going to be "Perfect," literally and figuratively speaking.
Sheeran and Seaborn got engaged just before the new year, according to a post Sheeran shared with his millions of followers on Instagram, but have actually been dating for a little over three years. We can all thank Cherry Seaborn for inspiring some of Sheeran's best work over the past few years; she was the muse behind "Shape of You" and, naturally, "Perfect." One wonders if he waited to get engaged until he had penned the most wonderful wedding song to ever exist, although probably not. He seems a bit more chill than that, especially when you read his engagement announcement:
Got myself a fiancé just before new year. We are very happy and in love, and our cats are chuffed as well xx
I mean, how many engagement announcement mention cats? Not nearly enough, in my opinion.
The happy couple might have been dating for three years, but they've actually known each other since high school. Seaborn and 26-year-old Sheeran both attended Thomas Mills High School in Framlingham, Suffolk, where they became fast friends. They stayed friends for years, losing a little contact when Seaborn headed state side to attend Duke University in North Carolina. She eventually moved back to England in 2015 when a romance heated up between herself and Sheeran, and he honestly couldn't be happier. He opened up about his feelings for Seaborn during a recent interview with Ellen Degeneres on Ellen, and also told us a little something about his cats.
We went to high school together. She's really cool. We live together, we have two cats [Calippo and Dorito] but they're both really, really strange creatures. They kind of sit up like humans. It's really strange. You'll walk in and they'll be looking at you.
Loads of Sheeran's fans took to Instagram to offer their congratulations to that adorable ginger-haired sweetie.
Omg this is amazing news CONGRATS !!!!
Y'all look 'purrfect'💕
She's literally perfect <3 Happy for you ed <3
Then there were the other fans, who I assume were probably happy for Sheeran somewhere deep, deep down. But mostly sad because their chances at love with the eloquent, good-natured singer have now been effectively destroyed.
If it's any consolation to the millions of heartbroken Sheeran fans out there, Seaborn sounds like an impressive woman in her own right. The BBC reports that she is a hockey star who helped Britain win a bronze medal in the 2012 European Championships. And of course, Sheeran being Sheeran, he supports her completely. He's been known to show up to watch her play, because that's what good boyfriends do, guys.
And, as sad as it is for the rest of the population that Sheeran is off the market, I have a feeling he's awfully happy. Which could mean some very excellent music for Sheeran fans in the near future.
Songs about being super happy and in love, songs about making relationships work. And with any luck, a song or two about those cats of his he's obviously so fond of... imagine Ed Sheeran singing a song about love and cats?
Now that really would be perfect.
Check out Romper's new video series, Romper's Doula Diaries:
Watch full episodes of Romper's Doula Diaries on Facebook Watch.