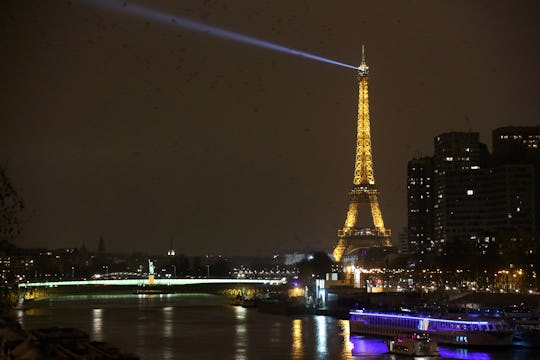 LUDOVIC MARIN/AFP/Getty Images
Eiffel Tower's Colors Will Change To Belgium Flag's Following Brussels Terror Attack
It's been just hours after three explosions rocked Belgium, leading to the death of dozens, but tributes following the Brussels terror attacks prove that Europe will not let terror best its spirit. And, four months after 130 were killed in the Paris terror attacks, the city of lights in particular is showing its support to Brussels — those in Paris on Tuesday night will be able to see the Eiffel Tower lit up with Belgium's colors.
Paris mayor Anne Hidalgo's tweet about the Eiffel Tower's tribute on Tuesday follows more tributes that quickly came in after the Brussels Airport and a metro station in the city were attacked, possibly by at least one suicide bomber.
(Update: ISIS has claimed responsibility for the terror attacks in Brussels Tuesday.)
French newspaper Le Monde, for one, shared a cartoon showing that Brussels victims and survivors have a shoulder to lean on when it comes to France, which also experienced terror just months ago. And others, from the UK to Greece to the US, are also showing support in Brussels trying time.
But the sight of the Eiffel Tower lit up for Brussels is one of the most moving tributes of all — particularly considering, just four months ago, the landmark shut down following the Paris attacks for security reasons. Now, to see it not only open, but opening up its arms, showcase the support shown to Brussels throughout Europe. (Particularly after Belgium authorities apprehended Salah Abdeslam, one of the Paris terror suspects, Friday in Brussels.)
As Hidalgo said her her tweet with a simple hashtag: #NousSommesUnis. Translated? #WeAreUnited. And the world won't stop showing Brussels, and any victims of terror attacks around the globe, just that.