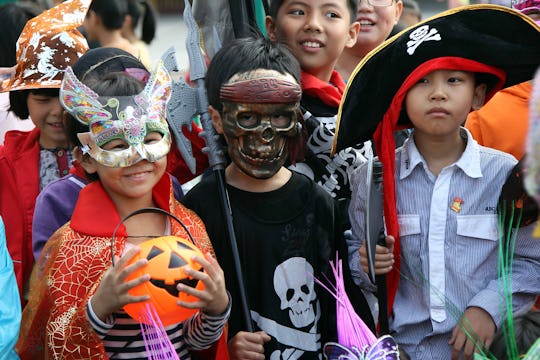 VCG/Getty Images Entertainment/Getty Images
These Photos Of Teachers Dressed As Mexicans & The MAGA Wall Have People Furious
Every year as Halloween approaches, there are always a handful of people who ruin it for everyone. I'm talking about outright racist/culture-appropriating/offensive costumes. Because apparently, in 2018, some people still don't "get" that it's not okay to wear blackface. Or to dress as "an Indian." Or, as one group of educators recently discovered, come to school as illegal immigrants and the Trump-promised wall. Because apparently, elementary teachers dressed as Mexicans and the border wall for Halloween — and people are furious. Romper has reached out to the Heights Elementary School superintendent, but did not immediately hear back.
A few days ago, roughly a dozen teachers at Heights Elementary School in Middleton, Idaho, dressed up as the proposed border wall at the Mexico-U.S. border, as well as Mexican stereotypes, People reported. Two photos of the costume-clad teachers were posted to the school district's Facebook page last week before they were removed. One shot featured a group of teachers wearing colorful ponchos, sombreros, and black mustaches, according to KGW. The other? It featured teachers dressed in patriotic garb while standing behind a cardboard border wall with President Donald Trump's favorite slogan written on it: "Make America Great Again."
Seriously. You can't make this stuff up, folks. Take a look for yourself.
Cringe-worthy, right? As KGW reported, the teachers apparently created the offensive costumes as a team-building activity.
Superintendent Josh Middleton has already commented on the costumes, according to KTVB. In a Facebook video, Middleton expressed his "sincerest and deepest apologies" for the what happened. He said that he first learned about the photos when an upset parent contacted him on Thursday night.
I was shown those photos and [was] deeply troubled by the decision by our staff members to wear those costumes that are clearly insensitive and inappropriate. We are better than this. We embrace all students. We have a responsibility to teach and reach all students, period.
At the same time, Middleton said he didn't think the teachers meant to cause any harm. "Do I think there was a malicious intent in this poor decision? No, I don't," he said, according to The New York Times. "Was there a poor judgment involved? Absolutely."
Another statement was posted onto the school district's website, in which Middleton explained the incident was being investigated, and that he hoped it would be finished by Monday. "The district as a whole is receiving publicity that is judging our schools and community on the events of that afternoon into a negative, broad generalization," he wrote. "I know we are better than that literal snapshot."
Despite the apologies and the investigation, the story has managed to go viral — and people are seriously pissed. One Twitter user wrote, "These teachers are trash and shouldn't be teaching kids."
Another person tweeted, "In an elementary school?? Teachers showing that tearing apart families and a wall of division is a joke? This is perhaps the most disturbing piece I've read today."
Another Twitter user wrote, "Group of Idaho teachers went as 'The Wall' with others wearing sombreros, fake mustaches & maracas. Racism in full display for the middle school kids by their own teachers. Principal says bad judgement but didn't mean harm. Really?? They all need fired."
Yet another person chimed in with, "These teachers are either malicious or really stupid. This is inexcusable and I hope these teachers are either fired or have to go through INTENSIVE sensitivity training. This is just another example of how Trump is dividing this."
Look, I'm not going to attempt to understand what these teachers' intentions were. But I think most people would agree that making and wearing costumes like this to an elementary school — where during the 2015-16 school year, roughly 12 percent of students were Hispanic, mind you — was a terrible judgement call. And in my opinion, they shouldn't be able to walk away from this nonsense without any repercussions.