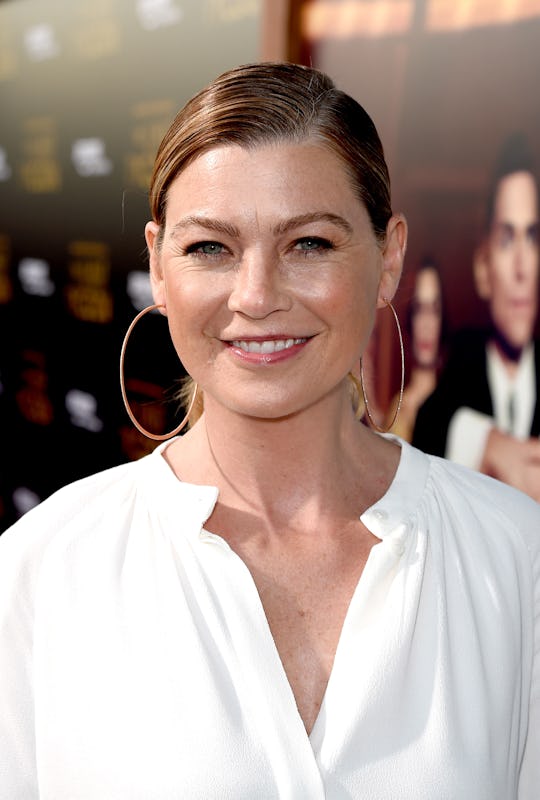 Kevin Winter/Getty Images Entertainment/Getty Images
Moms Will *Love* Ellen Pompeo's Thoughts On Asking For What She Deserves
Grey's Anatomy is one of the most consistently popular network television shows around. It has endured for several reasons; creator Shonda Rhimes is a whiz at creating believable drama, and the characters are hugely appealing. Most especially Meredith Grey, played by Ellen Pompeo; there's a reason she's officially the highest paid woman on television. But don't go thinking it was an easy rise to the top for her; Pompeo talked about the gender pay gap recently, and all of the ways her job takes her away from her kids. Because being a working mom is rarely as uncomplicated as go to work, get paid, go home... no matter who you are.
Pompeo sat down with The Hollywood Reporter recently to discuss her evolving career and personal life. The 48-year-old actress has been working on Grey's Anatomy for nearly 13 years, and has welcomed three children with husband Chris Ivey in that time; daughters Stella Luna and Sienna May, as well as son Eli Christopher. While actors can be notoriously shifty about discussing how much money they actually make, Pompeo decided to come forward and get super real for a great reason: she wants to set an example for other women about empowering themselves in the workplace.
Pompeo is one of the few original Grey's Anatomy cast members to still be on the show, and she told Hollywood Reporter that she wasn't even that interested in doing Grey's initially because she was working on establishing her career as a film actress. And the years of being paid less than her former co-star Patrick Dempsey didn't help, as she told the outlet:
For me, Patrick [Dempsey] leaving the show [in 2015] was a defining moment, deal-wise. They could always use him as leverage against me — "We don't need you; we have Patrick" — which they did for years. I don't know if they also did that to him, because he and I never discussed our deals. There were many times where I reached out about joining together to negotiate, but he was never interested in that.
After Dempsey left, Pompeo eventually approached Rhimes to discuss a pay hike. She and her agent ran some numbers and came to the conclusion that Disney had reportedly made a full $3 billion from Grey's Anatomy, and as the face of the show, perhaps she deserved a bigger piece of the pie. For several reasons; because she had been dedicated to the show for 14 years, because she consistently performed well, and because she had given up a lot to remain where she was. Pompeo said to Rhimes:
I don't get to do anything else, and that's frustrating for me creatively. I make 24 episodes of TV a year, and as part of this deal, I cannot appear anywhere else. And directing is cool but, to be honest, it just takes me away from my kids. So, it's got to be a ton of money. And it has to help me with my producing because producing is something I really enjoy. That's my creativity now. Acting, to me, is boring. An actor is the least powerful person on set, so I don't care about chasing roles. Plus, at my age, it's pretty unrealistic. Not that I can't do a cool cable thing, but I'm not going to have this whole second life as a movie star. I'm not f*ckin' Julia Roberts.
Rhimes supported her, and now Pompeo is the highest-paid actress on television. She inked a $20 million per year contract, including a seven-figure signing bonus and $575,000 per episode. Because she said she was finally ready to ask for what she deserves:
I'm 48 now, so I've finally gotten to the place where I'm OK asking for what I deserve, which is something that comes only with age. Because I'm not the most 'relevant' actress out there. I know that's the industry perception because I've been this character for 14 years. But the truth is, anybody can be good on a show season one and two. Can you be good 14 years later? Now that's a f*ckin' shill.
Hopefully, other mothers who are struggling to find that balance, trying to deal with the reality of leaving their kids for their job (which isn't always easy), will find their voices as well. To speak up, to know their worth, and to demand what they know they deserve.
Check out Romper's new video series, Romper's Doula Diaries:
Watch full episodes of Romper's Doula Diaries on Facebook Watch.