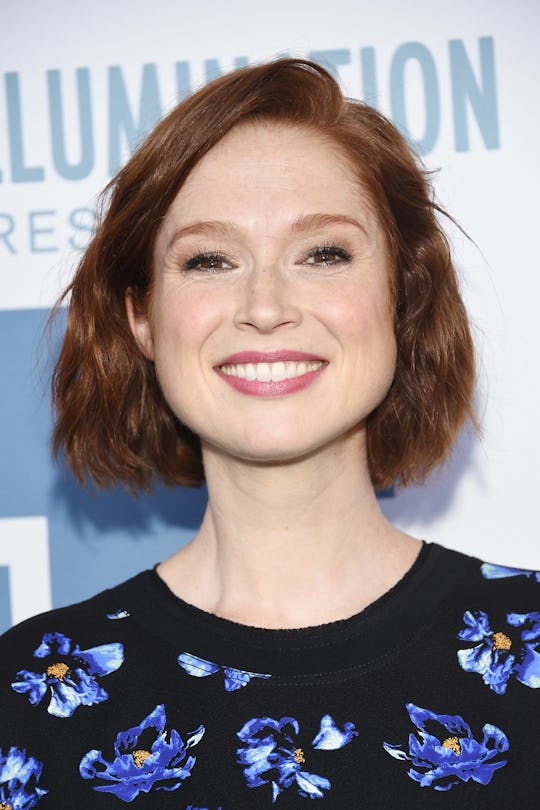 Mike Coppola/Getty Images Entertainment/Getty Images
Ellie Kemper Is Just As Nervous As Any Other Mom-To-Be
The quirky and hilarious star of the Netflix hit Unbreakable Kimmy Schmidt is about start even more fulfilling, and sometimes pretty daunting, role. Chatting about her first pregnancy on The Today Show, Ellie Kemper revealed she is just as nervous as any other mom-to-be. Kemper is expecting her first child with her husband, writer and producer Michael Koman.
"When you start feeling the baby kick, you realize there's a person inside and that pregnancy is very different from having a person you're responsible for, for the rest of your life," Kemper told TODAY Sunday host Willie Geist in an interview aired on July 3. "I don't know what I'm doing, but then I have to remind myself no parent does, right?"
The former adorably awkward receptionist on NBC's The Office announced her pregnancy during an interview on The Tonight Show Starring Jimmy Fallon by indulging in a pint of Ben and Jerry's ice cream. Kemper is nearing the end of pregnancy — she's due some time in August — and is gearing up for motherhood and feeling a little nervous about this new journey.
"I'm feeling anxious," Kemper told TODAY Sunday host Geist. "The days are numbered before I give birth. I don't know what I'm doing."
Kemper seems to be loving every moment of pregnancy, from testing out strollers to indulging in her new cravings and even trying some strange pregnancy food theories on TV. Just last week, during an appearance on The Late Show with Stephen Colbert, Kemper gobbled up a sardine, even though she hates them, because the fishy oils could make her baby smarter.
There is one part of pregnancy she's not too fond of, however, and that's when strangers try to touch her pregnant belly.
"Now I'm showing and I don't know what goes through a person's mind—a stranger's mind no less—when they think oh yes, your stomach is something that now belongs to me and I can touch it," she continued to tell Geist during her interview on TODAY Sunday. "It's actually crazy. In a way, I think it's a nice reminder of humanity, but then I quickly go back to the idea that you wouldn't do this if I wasn't pregnant."
Even during the early days of her pregnancy, her friends couldn't resist feeling her budding pregnant belly.
"At first when I was barely showing, friends would touch my stomach," Kemper further joked with Geist about one of her pregnancy pet-peeves. "It was just odd. I'm not a very, I don't know, touchy feely comfortable person so with someone touching me, I'm like 'ahh personal space violation!' It was like touching my digestion. There was nothing quite there."
Kemper's due date is just around the corner and even though the comedy couple is wants to keep the gender of their bundle of joy a surprise, we can probably assume of he or she will be just as quirky, adorable, and as likable as his or her mom and she'll be even more amazing in this role than she is on-screen.