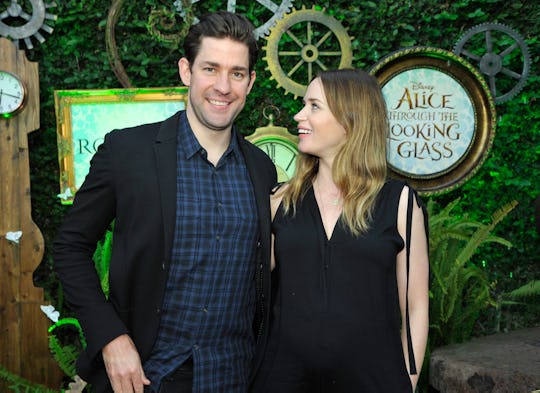 John Sciulli/Getty Images Entertainment/Getty Images
Emily Blunt & John Krasinski Welcome Their Second Child, & It's A Girl
Firework shows, hot dog eating contests, and patriotic parades are only just a few ways to celebrate the Fourth of July this year. There's also some pretty exciting baby news to light a sparkler for — Emily Blunt and John Krasinski welcomed their second child and it's another girl! On Monday, The Office alum announced the news on his Twitter account that Blunt had given birth to their second daughter two weeks ago.
"What better way to celebrate the 4th... than to announce our 4th family member!!!" the proud dad tweeted on Monday, July 4. "2 weeks ago we met our beautiful daughter Violet."
Back in January, a representative confirmed the exciting news to Us Weekly that the pair was expecting their second child.
The Hollywood couple announced the news themselves that their first child, two-year-old daughter Hazel, now has a little sister, keeping in line with how they like to announce their baby news. Back in Feb. 2014, Krasinski and Blunt also took it upon themselves to announce the birth of little Hazel on Twitter.
"Wanted to let the news out directly," the 36-year-old dad of two tweeted. "Emily and I are so incredibly happy to welcome our daughter Hazel into the world today! Happy bday!"
Fans probably won't need to wait too long for a snap of baby Violet, seeing as just a few months after announcing the birth of Hazel the 13 Hours actor posted the first photo of his adorable baby girl on his Twitter account.
"Pics of kids should only come direct from parents," Krasinski captioned the photo, tweeted on May 13, 2014. "So I'm thrilled to introduce you guys to Hazel!!!"
Blunt, who is perhaps best known for her role in the 2006 fan favorite The Devil Wears Prada, reportedly kept pretty busy schedule during her second pregnancy. The British actress had been filming for the film adaptation of the best-selling novel Girl On The Train in addition to doing promotional tours for her role as the Ice Queen in The Huntsman.
The now mom-of-two told TODAY's Matt Lauer in April that her pregnancy with Violet was a more "laid-back" experience than the first time around.
"I think we are more laid-back this time," Blunt told Lauer during the April interview. "We know what to expect. It is the great unknown with the first child."
As for how their toddler Hazel feels about her new role as Violet's big sister? Well, she's been gradually warming up to the idea.
"She's a bit dismissive of the idea at the moment," Blunt told Entertainment Tonight in April. "My plan is just to tell her that this is less about having a sibling and more that she's being promoted. She gets to have a worker now that she can boss around."
The proud parents seem to have a solid and reliable system for keeping their fans informed about their big news. So, it probably isn't a bad idea to stay tuned to Kransinki's Twitter page, we may get to see the first snap of baby Violet in the next few months.