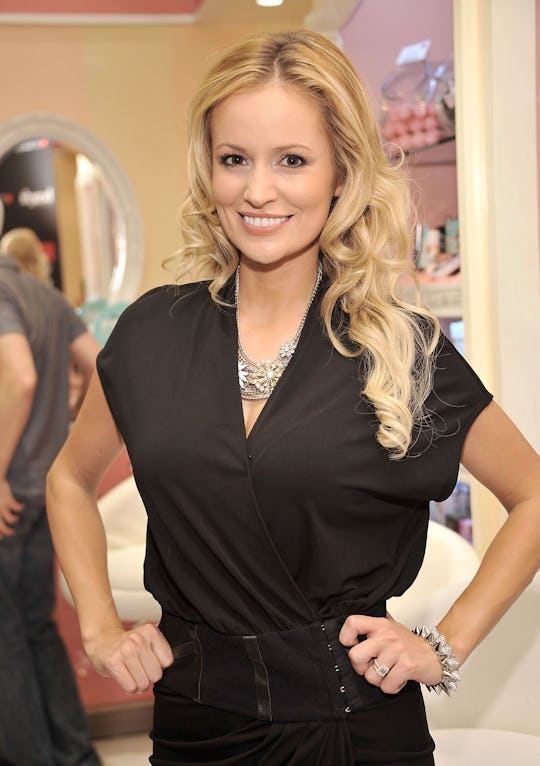 Gary Gershoff/Getty Images Entertainment/Getty Images
Emily Maynard Shares The Name Of Her Fourth Baby, & It's So Unique
On Sunday, Emily Maynard and her husband, Tyler Johnson, announced the birth of their fourth child. Following the birth, many Bachelorette fans wondered when Maynard would announce other details about the newborn — first and foremost, the little guy's name. Well, I have exciting news for you, #BachelorNation. On Thursday, Emily Maynard took to Instagram to reveal her son's name, and fans love the distinctive moniker.
Ever since Maynard announced that she'd be expecting her third child with Johnson (Maynard also has a daughter from another relationship), fans wondered what she'd name the latest addition. As any fan of Maynard knows, the fascination with her family is intense, to say the least. People absolutely adore her cute family pictures, thoughtful musings on parenting, and her gorgeous pregnancy style. Not to mention Maynard is one of the most beloved stars in the entire Bachelorette franchise — I'd be downright shocked if fans didn't express interest in the new baby's name.
So, what name did Maynard bestow on her new son? Per Maynard's cute Instagram post, the baby's name is Gatlin Avery. Maynard said in her announcement:
We finally came up with a name and were able to leave the hospital! Meet Gatlin Avery Johnson, the sweetest little brother this family ever could've asked for.
Super unique, right? Although I've never heard the name "Gatlin" before, I really like it. It has a nice ring to it (I appreciate names that end in hard syllables) and it's pretty creative.
As it turns out, most of Maynard's fans on Instagram agree with my assessment of the name. "Omg!!! He's beautiful... and wonderful choice of name," one follower wrote. Another chimed in, "Gatlin is the perfect name! So happy for you!" That's just a very small sampling of what her followers had to say on the photo. So yep, Maynard's fans clearly adore this moniker.
Considering the name is not very common, I did some digging into its origins and popularity. The name is of English origin, according to Ancestry, and it's probably a "variant of Catlin or Gadling, a nickname from Old English gœdeling 'kinsman', 'companion', but also 'low fellow'." Although the popularity of Gatlin has steadily increased since 1983, according to Baby Names, it took a bit of a dip between 2015 to 2016.
Gatlin is also the last name of Justin Gatlin, a famous American Track and Field sprinter. I personally think Gatlin is more common as last name, but that could be changing. Plus, last names as first names is a popular trend these days.
As for how Maynard came across the cute name, she likely has her fans to thank. In Maynard's original birth announcement, she implored her followers to send her baby name suggestions, a call her fans happily answered. Maynard's comments section was lit with great name ideas, people. I bet the fans who suggested Gatlin are thrilled beyond belief.
Now that Maynard has successfully named Gatlin, she can enjoy life as a mom of four. Did I mention that three of Maynard's kids are under the age of 3? Yep, Maynard is about to have her hands full. Luckily, Maynard is totally game for this next chapter of her life. During her fourth pregnancy, Maynard said, according to People:
... as scared as I am to have 3 under 3, I'm so grateful God picked me to be the mommy to my kids and we can't wait for number 4 to get here!
Once again, congratulations to Maynard on her latest addition. Gatlin is the coolest name ever, and fans can't wait to see more of him.
Check out Romper's new video series, Romper's Doula Diaries:
Watch full episodes of Romper's Doula Diaries on Facebook Watch.