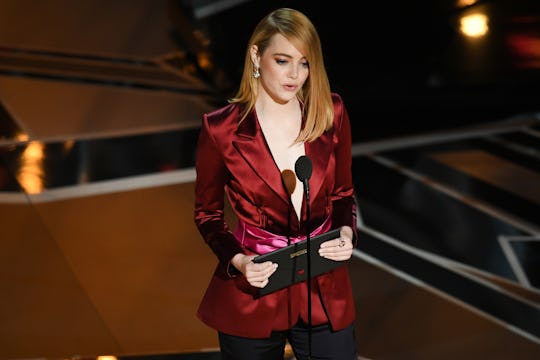 Kevin Winter/Getty Images Entertainment/Getty Images
Emma Stone's Best Director Comment At The Oscars Was Utterly Perfect
Everyone loves Emma Stone, this I know to be true. When she won Best Actress for La La Land, I was pumped. Because she's just that girl, you know? And this year, while she wasn't nominated for any awards, I still sort of felt like she dominated. Emma Stone's Best Director comment at the Oscars was a not-so-subtle nod to the only female director nominee, Greta Gerwig, and honestly? It was a real moment.
As women everywhere have most definitely noticed, there was exactly one female director nominated for Best Director at the 2018 Academy Awards. Greta Gerwig, who was nominated for her debut film. In the 90 years since the inception of the Oscars, there have been exactly five women nominated for Best Director; Lina Wertmüller for Seven Beauties, Jane Campion for The Piano, Sofia Coppola for Lost In Translation, and Kathryn Bigelow for The Hurt Locker. The only woman to ever win the award was Kathryn Bigelow in 2010. This year, Gerwig was all alone. And this fact did not go unnoticed by Emma Stone, who had this to say when she was tasked with announcing the nominees for Best Director:
These four men and Greta Gerwig created their own masterpieces this year.
Twitter loved it, of course. Especially considering the overwhelming number of men in the category... four to one. Who loves those odds, I ask you?
Now to be fair, plenty of people on Twitter pointed out the fact that there was more diversity to be celebrated in the Best Director category than one would find in pervious years. Jordan Peele was only the fifth black director in history to be nominated for his directorial debut for Get Out. And Guillermo Del Toro, who was nominated for Shape Of Water, is from Mexico.
At the end of the day, things panned out well for both Peele and Del Toro. Peele won the Oscar for Best Original Screenplay, while Del Toro won for Best Director.
Gerwig, on the other hand, walked away empty-handed. Much like the other two directors nominated in the category, Paul Thomas Anderson for his movie The Phantom Thread and Christopher Nolan for Dunkirk.
Stone isn't the first woman to call out a lack of female representation during this awards season, of course. Natalie Portman rather famously called out the fact that there were no female nominees during the 2018 Golden Globe Awards. As she stood beside director Ron Howard, the Black Swan actress said, "And here are the all male nominees."
So few words, and yet Portman's point was memorable. Anyone who watched the Golden Globes will definitely remember the awkward shifting in the seats of the nominees, which I must admit I might have enjoyed a little tiny bit. Not that Portman intended to make them squirm; as she explained to Flare:
I discussed with some of the women I've been working with that they had offered to me to present the director category, but I felt uncomfortable because it seemed to be excluding some deserving nominees. And how could I bring attention to it without disrespecting the nominees? Because it's not their fault, and they all made great work. You don't want to not recognize them. It's just, why aren't we recognizing the people who aren't part of this exclusive club? So one of the women recommended I say that, and it felt like stating something that was true.
It was the right thing to do at the time, I think. And hopefully fans will see that Emma Stone was just trying to shed a little light on the fact that so few women have been nominated for Best Director.
Because I honestly don't think I'll be able to handle it if people start roasting her.
Check out Romper's new video series, Romper's Doula Diaries:
Watch full episodes of Romper's Doula Diaries on Facebook Watch.