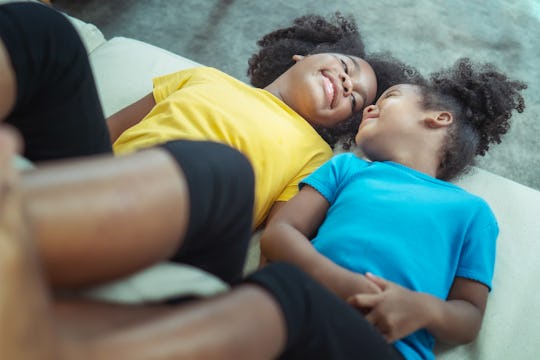 Natnan Srisuwan/Moment/Getty Images
18 Empowering Instagram Captions For International Day Of The Girl
International Day Of The Girl is October 11, and it's a great opportunity to post something on social media to inspire all the girls and women in your life. These 18 empowering Instagram captions for International Day Of The Girl will do just that: let all girls, young and old, know that you support them and are here to uplift them.
While it's always fun to post a pic of your crew with a cute caption —and you still can! — International Day Of The Girl 2020 is about more than just #squadgoals. This year's day has a clear theme: "My voice, our equal future," an opportunity for adolescent girls to reimagine a better world. As explained on the UNICEF website:
"As adolescent girls worldwide assert their power as change-makers, International Day of the Girl 2020 will focus on their demands to live free from gender-based violence, harmful practices, and HIV and AIDS, learn new skills towards the futures they choose, and lead as a generation of activists accelerating social change."
"We need to uphold the equal rights, voices and influence of girls in our families, communities and nations," UN Secretary, General António Guterres said on the day's official website. "Girls can be powerful agents of change, and nothing should keep them from participating fully in all areas of life."
So grab your gals and find your light, these 18 Instagram captions will help bring attention to International Day Of The Girl.
This article was originally published on