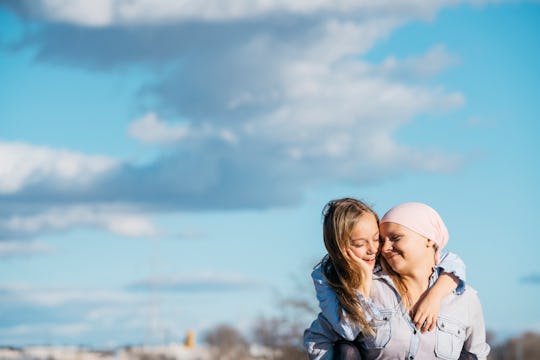 Karrastock / Getty
20 Quotes For Breast Cancer Awareness Month, Because Survivors Are So Strong
There's more to October than Halloween candy and pumpkin spice drinks, as the prevalence of pink ribbons prove. It's also breast cancer awareness month. And as these empowering quotes for breast cancer awareness month demonstrate, people are more dedicated than ever to supporting the cause. If you or a loved one is struggling with this diagnosis, remember that you aren't alone.
The current facts about breast cancer are pretty serious. In fact, 1 out of 8 women in the United States will get diagnosed with breast cancer within her lifetime, and it is the most commonly diagnosed cancer in women, according to the National Breast Cancer Foundation. Chances are very high that you or someone in your life has been affected by this diagnosis, so you know how frightening it can be.
Thankfully, there is also a tremendous amount of support available for everyone touched by breast cancer. Plenty of media figures, from actresses to sports stars, have used their influence to raise support for this cause. It can happen to anyone, but so many people are working to make this diagnosis less frightening than ever before. Read on for some truly inspiring words about cancer from people who have been there, too.
This article was originally published on