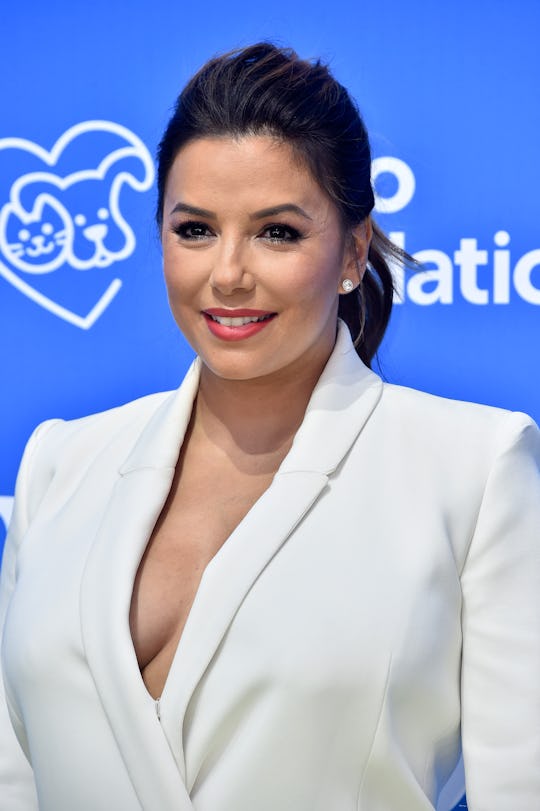 Frazer Harrison/Getty Images Entertainment/Getty Images
Eva Longoria's First Photo Shoot With Her Newborn Baby Boy Is The *Cutest*
She became a mom for the first time after giving birth on June 19, and on Thursday, Eva Longoria shared photos of her son, Santiago, from their first mom and baby photo shoot. Longoria and her adorable 7-week-old son posed together for a 13-page HOLA! USA cover story, and although the actress admitted on Twitter that she's having a bit of trouble transitioning back to her busy work life after having a baby, it's pretty clear that Longoria is totally loving being a new mom.
Though the shoot marks the first proper photos Longoria has shared with the world, baby Santiago technically made his public debut on his mom's Instagram only a few days after his birth. On June 21, Longoria shared a photo of herself cuddling her newborn son in the hospital that was also shot by HOLA! USA for Santiago's exclusive birth announcement, and later that month, she also shared a beautiful black-and-white snap of her little boy's feet, as well as a sweet, makeup-free selfie snuggling her son in a sling. But three weeks after giving birth, the new mom dolled up for the beautiful cover shoot, and though it meant reemerging from her maternity leave temporarily, the end result seems more than worth it — judging by her tweet, she couldn't possibly be more proud of how they turned out.
In the gorgeous photo Longoria shared on social media, the new mom is gazing lovingly at her little boy, who is wrapped up in a blue blanket. And if you look closely, there's an additional adorable detail: Longoria is also wearing her son's name on her necklace.
The snap is one of many taken of the two for the magazine by photographer Bernardo Doral, and the shoot — which took place at Longoria's Los Angeles home in September — seemed like a real full-circle moment. For one, the photos were published two years after the actress appeared on the cover of the magazine's first-ever issue, when she was sharing photos from her 2016 wedding to José "Pepe" Baston. Now the two are parents — and it sounds like they are happier than ever.
Longoria recently appeared on the red carpet for the premiere of her new film, Dog Days, and after admitting that her getting ready process mostly just involved "breastfeeding Santiago" while her "hair and makeup team were there getting [her] done," Longoria gushed to E! News about what she considered to be the best part so far about being a mom. She said,
Other than this little beautiful creature that came into this world, just going on a new journey with him and being a witness to his life is pretty exciting.
It certainly doesn't hurt, though, that in a recent interview with Entertainment Tonight, Longoria shared that Santiago was "a dream" and "such a good baby," adding "he's just been so easy, so sweet." The only downside? The fact that Longoria has been loving spending time with her son has meant that having to step away from him for work commitments has been pretty hard. She told ET,
I've been with him day and night, not working, for seven weeks. And it's been the best seven weeks of my life. I just miss him so much. Today's the first day that I'm working, and it's weird.
All things considered, that still sounds like a pretty good problem to have. Though motherhood certainly comes with its fair share of ups and downs, it's so heartwarming to see that Longoria is having such a great time bonding with Santiago in their first weeks and months together. And while it must definitely be a big adjustment to return to her work duties, it's pretty special that her first actual break from maternity leave was a photo shoot with them together.
Given how sweet Longoria and Santiago are together, though, hopefully the HOLA! USA photos will be only the beginning of many more beautiful mom-and-baby snaps still to come.