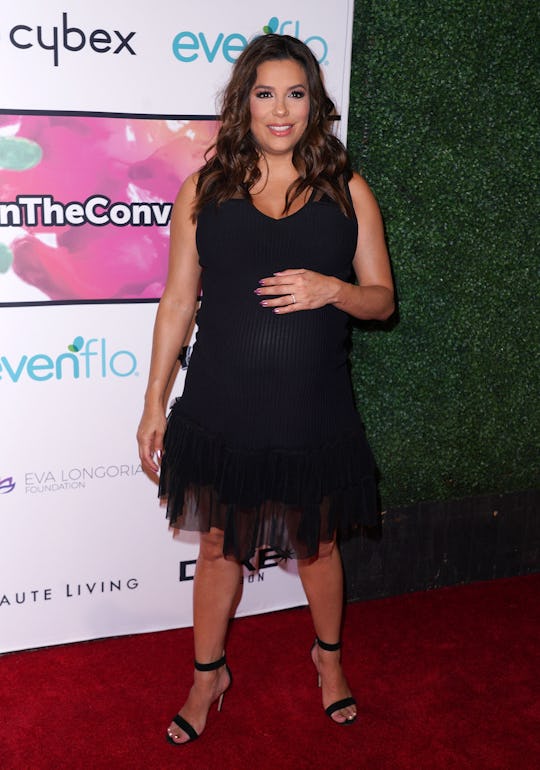 JC Olivera/Getty Images Entertainment/Getty Images
Eva Longoria Has Given Birth To A Baby Boy & It's So Exciting
After originally confirming her pregnancy back in December, actress Eva Longoria welcomed a baby boy into the world on Tuesday, and it sounds like she couldn't possibly be more thrilled to meet him. The Desperate Housewives star told HOLA! USA that she and her husband, José "Pepe" Bastón, had named their first son Santiago Enrique Bastón, and told the magazine that they were "so grateful for this beautiful blessing."
Santiago weighed 6 lbs and 13 oz and was born at Cedars-Sinai Medical Center in Los Angeles, and from the sounds of it, his arrival couldn't have possibly come soon enough. Ahead of his birth, Longoria kept her fans posted on Instagram, sharing that she was feeling "so big," and that she was "walking everyday hoping that will get her baby here faster." And in a separate video filmed a few weeks before her due date, Longoria admitted she was feeling super impatient, and quipped "I keep telling him we're waiting! We're waiting for him! I want to meet him already!"
Now, she and Bastón — who wed two years ago in Mexico — can finally hold their little one in their arms. And given how eagerly they've been anticipating his arrival, it seems safe to assume they are beyond thrilled.
Though Longoria has said that she's long dreamed of becoming a mother, the 43-year-old told Parade in 2014 that she was also more than OK remaining child-free unless she found the right partner. She told the magazine that she thought "children are a product of love," and that she "didn't have that need to procreate" which might otherwise lead her to have a baby on her own.
Yet even after marrying Bastón in 2016, Longoria said that she wasn't feeling any pressure to have a baby right away, according to E! News, and explained that she was already "a step mom to three amazing kids" from her husband's previous marriage, adding, "It if happens, it happens — if it's meant to be it would be a blessing."
Longoria — who was previously married to NBA player Tony Parker until 2011 — first met her husband in 2013, according to People, though sparks didn't actually fly between them until the two were re-introduced by a mutual friend six months later. Their second meeting definitely sounded meant to be though: the actress told People that it "was like the cliché [of] angels singing and there was a glow around him and it was immediate chemistry." And that feeling doesn't seem to have worn off. Longoria said,
I want to yell from the highest mountaintop about everything that goes on with us because I'm so happy and excited to be with a person as kind as Pepe is. He is probably one of the first men I've dated that has been older and established and, basically, a grown-up. It is so nice to be arm-in-arm with someone who is your equal.
Longoria's rep confirmed in December that she and Bastón were expecting their first child together, and in May, the pregnant actress celebrated her first Mother's Day by posting a shot of her growing belly to Instagram.
But as thrilled as she may have been to be pregnant, Longoria did admit that the final stage of pregnancy wasn't exactly a ton of fun. In an Instagram story, she told her followers,
These last weeks are so uncomfortable, you guys. I'm back to sleeping so much. It's hard to breathe again. I'm working out a lot, though... doing my yoga, doing water aerobics, walking, massages, chiropractor stuff. I mean – I'm so uncomfortable.
That may be an incredibly familiar feeling for anyone who has also found themselves heavily pregnant and kind of miserable, but it sounds like it's more than paid off now that Santiago is here. After all, Longoria looks completely in love with her son already, and he seems to be the perfect addition to her beautiful marriage.