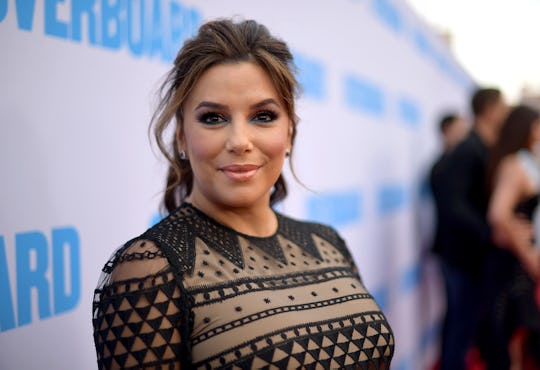 Matt Winkelmeyer/Getty Images Entertainment/Getty Images
Eva Longoria Thanked The Nurses Who Helped Deliver Her Son In This Heartfelt & Touching Post
There's a saying that it "takes a village" to raise a baby, but it takes a village to deliver one, too. Every new mom or anyone who is preparing to give birth knows that there are a whole team of people necessary for a successful and healthy delivery, among them doctors, nurses, doulas, midwives, support people, and well... the list goes on. Recognizing the crucial and life-changing role these professionals play in some of the most intimate and important moments in life, Eva Longoria thanked the nurses who helped deliver her son on Instagram, and every mom will completely understand where she's coming from.
"Starting off my Monday full of gratitude for this little blessing of a human! Pepe and I want to thank all the nurses at @cedarssinai who took such great care of my baby and I," Longoria wrote on Instagram, next to a photo of her newborn son's tiny feet.
She continued: "You are all angels, sharing your knowledge and experience to make sure new moms feel good about going home and caring for this fragile life of a newborn. I love this picture as a reminder that no matter how big you grow Santiago, you will always be my baby! #BabyBaston."
Fans immediately flooded the comments of the post congratulating Longoria and her family, and wishing them the best. Some even reflected on how special it was to bring their own kids home for the first time.
"Enjoy every single moment with your little man. The time with these special little people goes by faster than you can imagine," one fan wrote.
Another thanked Longoria for acknowledging the hard work of the medical staff, saying that nurses are often taken for granted. "Thank you for acknowledging the nurses!" another comment read. "They study so hard and work even harder, but often they are not as recognized as other medical workers are... P.S. Congratulations! Wonderful photo!"
On June 20 that Longoria gave birth to a son, Santiago Enrique Baston, with husband Jose "Pepe" Baston, according to Entertainment Tonight. Santiago joins four step-siblings, Natalia, Mariana, Sebastian and Jose, whom Baston had from a previous relationship. Longoria confirmed to Hola! sharing that he weighed 6 lbs and 13 oz, and was delivered at Cedars-Sinai Medical Center in Los Angeles. "We are so grateful for this beautiful blessing," Longoria and Baston shared with the magazine.
On June 21, Longoria posted a photo from the Hola! shoot and introduced her son to Instagram, adding that in honor of her son's birth, she would be supporting RAICES Texas and the ACLU for children who have been separated from their families at the U.S. border. According to The Sun, she said:
In light of my son's birth I wanted to bring focus on the families that have been separated at the border. Having my son next to me, I cannot imagine him being taken from my arms. Families belong together which is why we must do what we can to reunite them.
Longoria later posted a screenshot of a Yahoo.com story about a mom who wasn't able to get her son back after being separated. "I know these stories don't have an easy solution, however the epicenter to this conflict has a beginning that many immigrant families are facing today, children are being taken away from their parents," Longoria added, as Mother.ly reported. "It's heartbreaking at all chapters, which is why we as a country must find solutions that keep families together and safe."
Whether she's celebrating the birth of her son, fighting for the reunion of families at the border, or acknowledging the hard work of deserving doctors and nurses, it's clear that Longoria is a true superstar mom already.