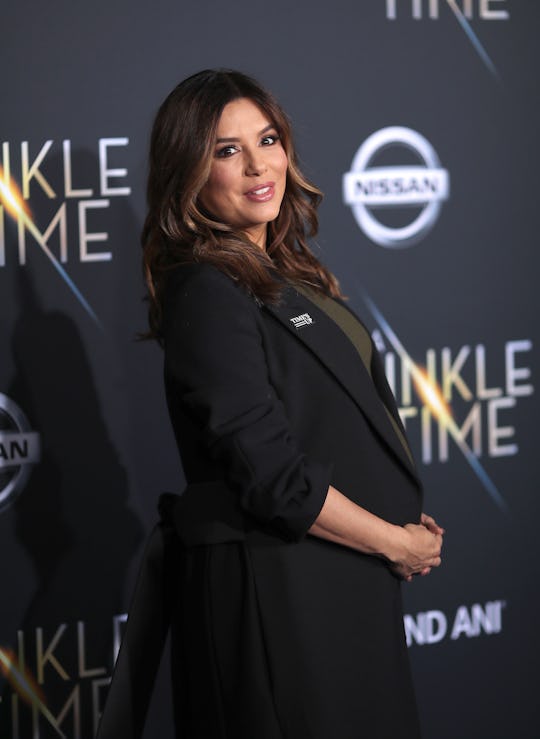 Christopher Polk/Getty Images Entertainment/Getty Images
Eva Longoria Plans To Live In Leggings For The Rest Of Her Pregnancy & Moms Are Like "Same"
Eva Longoria is known for being exceptionally stylish. So stylish, in fact, that she recently started her own fashion line for the Home Shopping Network, and I can tell you that they probably don't let just anybody do that. As an actress, a producer, and something of a fashion icon, perhaps her fans had high expectations for what Longoria's maternity wardrobe might look like... if so, prepare to be disappointed. Because Longoria got real about her pregnancy leggings and her plans to live in them, and honestly it's like we're best friends already. I feel you, girl.
The 42-year-old star of the upcoming movie Overboard announced that she was pregnant for the first time back in December when she was four months along. She and her husband, Televisa president José Pepe Bastón, are expecting a baby boy in May, according to People. This will be the first baby for Longoria and the fourth for Bastón, who has three children from a previous marriage.
While Longoria admitted during a recent interview with People that she "doesn't know anything about the mom world" yet, there's one thing about becoming a mother she already understands deeply: leggings. Pregnancy leggings to be exact. She told the media outlet that she plans to "live in" her pregnancy leggings, and I now feel so much better about my life choices.
Especially when I see this T-shirt Longoria shared on her Instagram page, which one can only assume she plans to pair with pregnancy leggings. Soul. Mates.
The former star of Desperate Housewives might be embracing impending motherhood and all of the stretchy pant comfort that goes along with it, but she wasn't always certain that's where her path might take her. Back in 2015, she told People:
I just turned 40, so I have thought, "Is time running out?" I should be thinking about [children], but I feel like my life is full.
To be fair, she and Bastón were newly engaged at the time, so perhaps she just needed a moment to enjoy being in love pre-baby. And, as she admitted during that interview, she has really loved being a stepmother to her three stepchildren. "They've been such a gift in my life, I don't feel like we are lacking because we don't have a baby," she told People.
That being said, she did say adding a baby to the family would be "icing on the cake." And who doesn't love icing?
So how did Longoria find out she was expecting her "beautiful surprise?" While she was directing a few episodes of The Mick for Fox, as she told Us Weekly:
I thought they're going to think I'm a terrible director because I'm just sleeping all the time! Every chance I got I took a nap!
She also told the media outlet that she was "into stretchy clothes," just in case there might be any doubt.
Longoria is in good company with the celebrity mom set in her leggings; Chrissy Teigen, Kourtney Kardashian, Reese Witherspoon, Katherine Heigl... it would possibly be quicker to try to come up with a list of celebrity moms who don't wear leggings. I mean, Kate Hudson has made a business out of leggings, for pete's sake, with her Fabletics line. Sure, they're probably meant to be worn as activewear, but let's face it; most moms are wearing them while they fold laundry or take the kids to the park or sleep or drive to the grocery store for honestly the millionth time.
I'm happy to see Eva Longoria not just accepting her new, relaxed wardrobe staple, but embracing her pregnancy leggings. Some might even say bragging about them. They're going to keep her feeling comfortable and supported for years to come, if history tells us anything.
Check out Romper's new video series, Bearing The Motherload, where disagreeing parents from different sides of an issue sit down with a mediator and talk about how to support (and not judge) each other's parenting perspectives. New episodes air Mondays on Facebook.