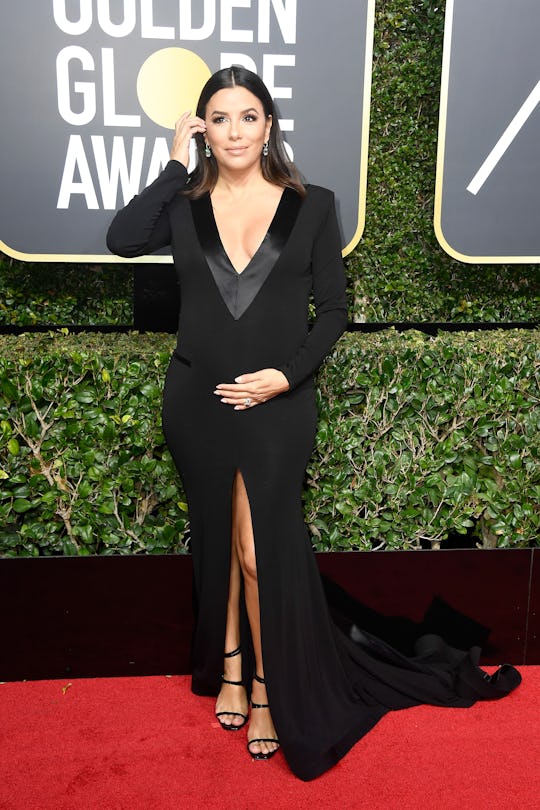 Frazer Harrison/Getty Images Entertainment/Getty Images
Eva Longoria's #TimesUp Comment At The Golden Globes Has The Internet Cheering
The conversations on the red carpet during Sunday's 2018 Golden Globes were remarkably different than any other award show's red carpet, ever. And nothing sums up the mood of the night better than Eva Longoria's Time's Up movement comment, which has the entire internet cheering. Longoria walked the red carpet with fellow Time's Up member Reese Witherspoon and spoke about the initiative at length. When Carson Daly ended the interview, he called it an important "moment," likely misspeaking.
Without missing a beat, however, Longoria pointed out that it's not a "moment, it's a movement," correctly noting that there's a major difference. (And possibly quoting Hamilton?) Although awards season only lasts so long, these powerful women in Hollywood don't intend on just letting the conversation fade away once the spotlight's off of them. If Sunday's red carpet was any indication, they were rightfully hell bent on making the most of having everyone's attention.
If all goes as planned, the Golden Globes, and the rest of the awards shows, such as the Oscars, will only serve as more opportunities to talk about sexual misconduct in, as Longoria noted in her conversation with Daly, all industries, not just Hollywood.
She was totally on point in drawing attention to the fact that our language surrounding the issues really matters, as does representation.
She Really Nailed It
Fans Were Loving What Eva Had To Say
Longoria is just one of hundreds of women in entertainment to be part of organizing the movement, which has already raised $15 million for its legal defense fund to help lower income women fight sexual abuse and misconduct in the workplace.
The initiative also aims to push for gender parity in Hollywood boardrooms, write legislation to hold companies with a pattern of sexual abuse complaints accountable, discourage the use of non-disclosure agreements to settle sexual harassment and abuse complaints, and generally show solidarity for all victims, in and out of Hollywood. The movement was also responsible for encouraging people to wear black on the red carpet — Longoria especially, who said, according to People:
For years, we've sold these awards shows as women, with our gowns and colors and our beautiful faces and our glamour. This time the industry can't expect us to go up and twirl around. That's not what this moment is about.
See, she must have been correcting herself and Carson, since she also called it a "moment" in the press. To be honest, it really feels like it is both of those things. It is first and foremost a movement, but Time's Up as an organization and all of the powerful statements made by pretty much every single woman on the red carpet could only happen in this particular moment in time.
It's hard to ignore the fact that 2017 was the year when brave victims came forward to speak their truth and empower others to do the same. It's a moment that's been turned into a (hopefully lasting) movement.
There was criticism that simply wearing black wasn't going to be a good enough way to protest or change the sexist culture. On Twitter, there were people who thought that the actresses involved should have just stayed home and boycotted the whole thing. Fellow Time's Up donor Kerry Washington addressed that line of thinking in a red carpet interview with Al Roker on Sunday. She said that it was totally unfair to "give up [their] seat at the table" for men's bad behavior, especially since those women were not at fault.
All of the other women on the red carpet Sunday night came to be heard and there was no way Eva Longoria was going to let anyone get away with trivializing what they had to say, even if it was unintentional. Let's all hope they keep that momentum going.
Check out Romper's new video series, Romper's Doula Diaries:
Watch full episodes of Romper's Doula Diaries on Facebook Watch.