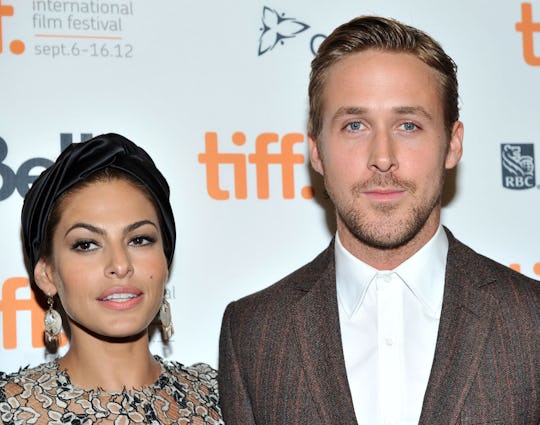 Sonia Recchia/Getty Images Entertainment/Getty Images
Eva Mendes Is Speaking Out About Raising Her Daughters
It is easy to forget sometimes that Ryan Gosling is a dad. The father of two, with partner Eva Mendes, is often silent about this major part of his life. And Mendes barely makes public appearances, choosing to devote her time to working and raising their two daughters. But in a rare public appearance this week, Mendes talked about how she's raising her daughters with Gosling, giving a rare (and much wanted) look into the their private lives.
Gosling and Mendes are parents to 4-year-old Esmeralda and 1-year-old Amada, but you wouldn't know it. Every few months, the two will say something about their daughters, but reveal too much about them. They don't parade them on the red carpet and they definitely don't post about them on social media. And the last time that Mendes made a red carpet appearance was in March, according to Vanity Fair. This is why, when Mendes spoke about her daughters during an appearance at a California mall on Thursday, it is important to take note of her words — especially because they are so far and few between.
Mendes told People that she is raising her kids in a Cuban household and that they're very immersed in her culture, among other things. Stating to People:
Esmeralda mostly speaks Spanglish now. It's really cute. She's definitely bilingual, and it's really important for us to make sure that she is not only familiar with the language, but also the culture. My mom, who lives 15 minutes away, makes it easy because she speaks to the girls in Spanish and cooks them Cuban food. And we're always listening to Cuban music. It really is a big part of our way of life. I wouldn't have it any other way.
Mendes is so proud of her heritage and where she came from — so it is only natural for her to raise her daughters in a Cuban household. In 2015, during an interview with Glamour, Mendes revealed that she is keeping that Cuban culture alive in her household by carrying over traditions:
We're always playing Latin music...But honestly, the way I stay grounded is that my mom still cooks for me. She brings over a Cuban dish at least once a week. I need my mom's cooking. I'm kind of a brat in that way.
And in a 2016 interview with Latina magazine, Mendes said that she uses every opportunity — whether it be through food or language — to introduce her young daughters to her culture, calling it a "main priority." And it definitely sounds like she has her priorities in check.
Honestly, Mendes and Gosling's household sounds like so much fun. Between the music, food, and culture, it definitely seems like an amazing family to grow up in. But maybe Mendes is having too much fun with her family. It exactly why you don't see much of Mendes on the red carpet or out and about — because being at home with her kids is so much better. This past March, Mendes told Shape, according to E! News:
What people don't know about me is that I love being home. Instead of hitting the red carpet I'd rather be with our girls.
Gosling, on the other hand, is even more silent about his daughters than his partner is. But during a rare moment of weakness, Gosling did give Good Morning America a peek inside of his life as a parent (spoiler alert: it's smooth sailing). "It's heaven," Gosling said in 2016. "It's like walking through a field of flowers every day. I live with angels."
Given Mendes' recent interview and look into their lives as parents, every day does seem like heaven in the Mendes-Gosling household.