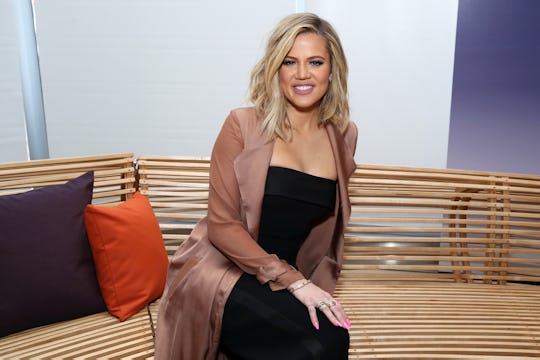 Cindy Ord/Getty Images Entertainment/Getty Images
Every Cryptic Comment Khloé Kardashian *Might* Have Made About Tristan Thompson
Out of all the Kardashian sisters, Khloé Kardashian might be the most vocal on social media. Not only does Kardashian often respond to fans on Twitter or Instagram, but she also posts a ton of cryptic comments for her followers to overanalyze. In short, Kardashian's social media persona is a gold mine. And now that a month has passed since the Tristan Thompson cheating allegations first broke, Kardashian's Twitter and Instagram accounts are more compelling than ever. Thompson did not immediately respond to Romper's request for comment. But as interesting as Kardashian's life is these days, it's also very confusing. So, if you're feeling a bit overwhelmed with all of the information out there, here's a handy guide to every cryptic comment Khloé Kardashian might have made about Tristan Thompson. There's a lot of ground to cover, you guys.
When the Thompson cheating allegations initially surfaced, not many people thought Kardashian would address the scandal directly. For starters, Keeping Up With The Kardashians does a great job of filling fans in on the latest drama — which means Kardashian technically doesn't have to ever release a statement on the rumored drama if she doesn't want to. Additionally, Kardashian isn't one to showcase her personal life to the world. Remember when Kardashian kept her marriage troubles with Lamar Odom on the DL for years before ever addressing it? It would be out of character for Kardashian to get candid so quickly.
So, in the meantime, it looks like Kardashian is keeping fans in the know via vague tweets and Instagram quotes. That being said, here's a look at all of Kardashian's cryptic quotes post-scandal.
A Fresh Start?
Just one month and a day after Kardashian welcomed her adorable daughter, True Thompson, into the world, she tweeted: "Today was a beautiful day!! I hope yours was magical." To top the uplifting message off, Kardashian added two butterfly emojis to the tweet.
But what does this have to do with Thompson? Many fans think Kardashian is alluding to starting fresh with Thompson — a theory that makes sense with the butterfly emojis. Butterflies symbolize rebirth, after all. Plus, it's reasonable to assume that a reconciliation would cause Kardashian to have a "beautiful day." On the other hand, May 13 was Mother's Day, and it's possible Kardashian was simply celebrating her first holiday with True.
The Heart Wants What It Wants
Kardashian, as her loyal supporters already know, is a big fan of vague quotes. One has to wonder if Kardashian has a book full of general quotes for every occasion or if she searches for a new quote each morning. Either way, her quote on Monday seems to hint that she's sticking by Thompson's side. "It's all about who you look for in a crowded room," the quote read, according to E! Online. "That's where your heart belongs." Hmm, is Thompson the one who perpetually catches Kardashian's eye? My guess is yes.
Be Kind
Two days after Kardashian's crowded room quote, she took to Twitter on Wednesday to drop some advice on the importance of kindness. "You will never ever regret being kind to someone," Kardashian wrote, according to Twitter. When one fan tried to challenge Kardashian on her perspective, she responded, according to Twitter: "Never give to get. Always try to give without expectations. Whether that be something tangible or emotional."
Although some fans might not agree with Kardashian on this one, it sounds like she's on board with being kind — and possibly forgiving — to Thompson during this stage of their relationship. Either way, it's up to Kardashian to decide how she proceeds going forward.
Communication & Healing
Out of all the quotes from Kardashian post-Thompson cheating allegations, her comment about healing and communication might be the most telling. "Communicate. Even when it's uncomfortable or uneasy," Kardashian shared on Thursday via her Instagram stories, according to Us Weekly. "One of the best ways to heal, is simply getting everything out."
It sounds like Kardashian is trying to heal her relationship with Thompson, and that she's copping to the fact that this isn't easy. Relationships take work, after all. On the flip side, it's possible the quote is about a friend or a family member.
Switching Things Up
Kardashian must have been feeling quote happy on Thursday because she shared another mysterious message after the note about healing. "Don't live the same year 75 times and call it a life," the message reads, according to E! Online.
Hmm, this one is a bit more complex as for how it might apply to Thompson. I'd reason that this quote suggests Kardashian is open to taking risks in love and with Thompson. Playing it safe might not be in the cards right now.
Well, there you have it folks — this session of Kardashian Cryptic Comments 101 has reached its conclusion.