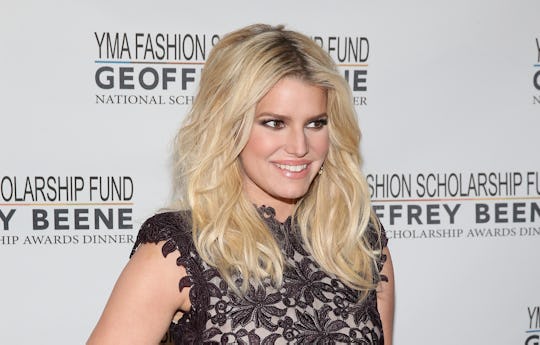 Neilson Barnard/Getty Images Entertainment/Getty Images
7 Things Jessica Simpson Has Revealed About Her Pregnancy So Far
Jessica Simpson and her husband Eric Johnson have been the proud parents of two kids for a while — but now, they're gearing up to add another member to their brood. The iconic early 2000s singer is pregnant with her third baby, so now seems like the right time to reminisce over everything Jessica Simpson has said about her pregnancy so far.
Simpson and Johnson, a former NFL player are already parents to Maxi, 6, and Ace, 5, according to People. The couple announced that they were expecting again back on Sept. 18, with two Instagram posts on Simpson's profile. Her first post was a photo of the couple's two children looking very excited and holding black-and-white balloons, captioned "SURPRISE..." Later that day, she posted another picture of Maxi and Ace in the same exact spot, with pink balloons floating all around them. "This little baby girl will make us a family of five," Simpson captioned the second photo, revealing that not only was she pregnant, but she was pregnant with a baby girl. "We couldn't be happier to announce this precious blessing of life."
Since then, Simpson has kept fans in the loop on several aspects of her pregnancy — here are seven things Simpson has shared about her time expecting.
1. She Is Feeling Body Positive
A big part of pregnancy is the fact that your body goes through so many changes — and Simpson is embracing them. Last month, she posted a fierce photo of herself rocking her bump in a sparkly gown, captioned:
To me, beauty truly comes from within and when I feel good in my own skin, and the clothes that are covering that skin, I can project my best self.
2. She's Taking All The Sleep She Can Get
Pregnancy is a pretty good excuse to press the snooze button a few times — creating literal life can be exhausting, after all. Alongside a sneakily-captured picture of Simpson dozing in bed, she wrote: "This momma wants sleeeeeeeep 😴." And you deserve it, Jess!
3. She's Been Experiencing Swollen Feet
Swollen feet during pregnancy, also known as edema, is extremely common, affecting about three-quarters of pregnant women, according to What To Expect. Simpson was one of the unlucky 75 percent, and she has turned to a few creative ice pack alternatives over the past few months. "When you're pregnant and have to ice your swollen feet before the flight..." she captioned a shot of herself icing her feet with frozen ABC-shaped mashed potatoes. That's one way to defrost frozen food!
4. Her Swollen Feet Have Brought Out Her Creative Side
Frozen potatoes aren't the only frozen food that can help swollen feet, according to Jessica Simpson. Another time, she opted for some frozen veggies — which, by the looks of this photo, she balanced on her feet by tucking them into her sweatpants, and then she lay back with her feet in the air. "Frozen White rice and Brussel Sprouts for the win tonight #pregnantladyproblems," she wrote.
5. When She Spoke The Truth About Flying While Pregnant
Alongside an airplane selfie, Simpson wrote what every pregnant woman who has ever had to take a flight was thinking: "Flights are VERY long pregnant." Yes, yes they are.
6. This Pregnancy Has Been Her Hardest So Far
In an interview with Entertainment Tonight, Simpson opened up about how this pregnancy is affecting her body. When asked how she was feeling, she said: "I'm feeling good. Third time's definitely harder. I think just the older you get, it's a little bit harder."
7. Her Kids Can't Wait For Their New Baby Sister
Also in her interview with Entertainment Tonight, Simpson showed off her giddy side when talking about how excited her kids are to welcome their baby sister.
The kids are so excited, so that's what makes it so much fun. 'Cause they're only 14 months apart, so they didn't get to experience the excitement of each other. When I told them that we were having a baby, I know that they'll remember that for the rest of their lives.
Simpson has yet to reveal her due date, but it looks like whenever the baby comes, the whole family will be so grateful.
Season 2 of Doula Diaries shares the stories of fearless doulas helping their clients take control of their births and make tough choices that feel right to them. Watch the first episode of the new season Monday, November 26th.