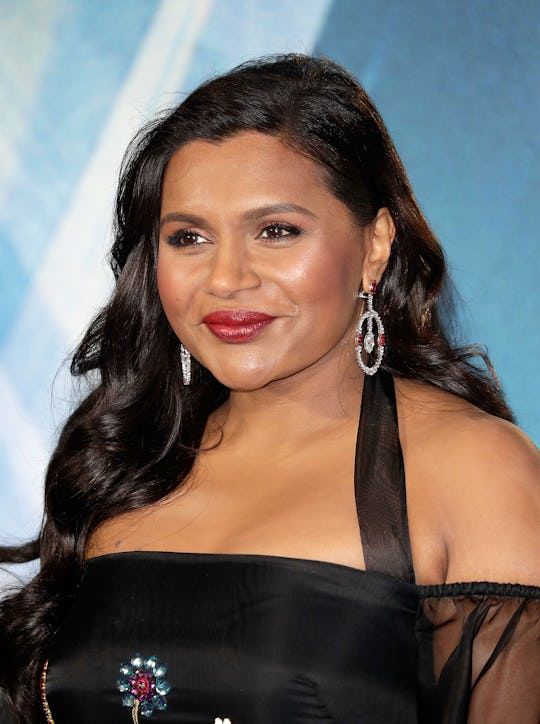 John Phillips/Getty Images Entertainment/Getty Images
Everything Mindy Kaling Has Shared About Her Daughter So Far
Is it even possible not to love Mindy Kaling? In addition to being both hilarious and amazing as Kelly Kapoor on The Office, and later as Dr. Mindy Lahiri on The Mindy Project, she's a bestselling author, the co-creator, writer, and producer for NBC's Champions, is currently traveling around the world to promote A Wrinkle In Time with Oprah Winfrey and Reese Witherspoon, and, oh yeah, she also happened to give birth to her first child in December. Though she's active on social media, Kaling has kept her life as a new mom mostly private. But everything Mindy Kaling has shared about her daughter so far makes it sounds like she's basically owning parenthood, just like everything else in her life.
Kaling gave birth to her daughter, Katherine Swati Kaling, in Los Angeles on Dec. 15, according to People, though the news of her pregnancy was actually confirmed in July, when an excited Winfrey accidentally spilled the beans. That may not have exactly been part of Kaling's plan, but she explained to Ellen DeGeneres in October that it could have been much worse:
If anyone is going to announce big news about your private life, Oprah Winfrey is the person. You can't complain that much about it. And you also can't be like, 'Hey, Oprah, zip it' — because she's almost like a religious figure. So if there's one person I have to tell my daughter about that revealed her existence to the world, Oprah is pretty good.
Kaling has mostly stuck to her closed-lipped approach to parenting in the public eye since her daughter was born, though she has offered up a few glimpses into her life as a mom for those of us longing for details. While she hasn't actually shared a photo of her little girl on social media specifically, she has shown off some of her pretty impressive baby gear, according to E! News, like her super stylish Cybex Jeremy Scott Gold Wings Stroller, which she posted on Instagram in January along with the caption, "first walk."
Kaling also shared some of the pretty awesome baby gifts she'd been given, including a too-cute Adidas tracksuit and shoes, as well as a kid-sized version of a dress she wore on The Mindy Project, courtesy of the show's costume designer, Salvador Perez (how cool is that?).
In February, two months after her little one's arrival, Kaling also stepped out for her first red carpet appearance as a mom at the Los Angeles premiere of A Wrinkle In Time. When asked about her daughter by Entertainment Tonight, Kaling joked, "The baby's great. She sat this one out. But I'm going to show it to her when it comes out on DVD."
The new mom also shared a little bit on what life was like as a newborn, and said,
What's the best thing my baby's been doing lately? Sleeping. That's nice. She doesn't love doing that — she loves not sleeping — but when she does, it's very fun ... when I see her and I can get her to smile first thing in the morning? Oh my God, it's the best feeling.
Now that Kaling is back to work, that's meant a lot of traveling. Earlier this month, Kaling spoke to People about the experience of flying with a little one during the Wrinkle In Time promo tour, and revealed that she'd actually turned to Witherspoon (herself a mom of three) for advice:
Over text message, Reese talked me through how to carry an infant car seat on the airplane. We're doing so much international travel and she was giving me really practical advice on how to carry a screaming baby on the plane.
And then, well, there was the baby gift from Winfrey. In an interview with USA Today, Kaling shared that the talk show queen actually sent over a U-Haul truck carrying a "hand-carved bookcase, prettier than any professional dollhouse you had ever seen that contained a hundred of the classic essential books in children's literature." Even cooler? Each book had "Katherine's Book Club" written on it.
But as much as Kaling's experience as a mom sounds pretty much as far away from the average mom's (I mean, Oprah definitely never sent me a hand-carved bookcase), she has also opened up about some much more relatable aspects of mom life. For one, Kaling told TODAY Parents earlier this month that, well, parenting a 3-month-old is pretty anxiety-provoking. Kaling said,
I knew how much I would love her and love the experience of being with her. I never understood how much I would worry and how much that worry is unceasing. Happiness for me, now, is just a feeling of relief. I'm in a constant state of worry but I'm enjoying it too. I hope she's developing correctly — I'm anxious constantly. I'm hoping that will change a little bit. I haven't even thought about when she's bigger.
As much as fans might be curious about Kaling's daughter, she has actually shared a fair bit about her little girl and her life as a mom. And, honestly, it sounds like she's having a pretty great time. Although parenting a newborn no doubt has its challenges no matter who you are, the fact that Kaling is pretty much amazing at everything makes it seem pretty safe to assume she's also completely rocking motherhood. And from the sounds of it, she's got quite a dedicated Hollywood support network in her corner if she ever needs help.
Check out Romper's new video series, Bearing The Motherload, where disagreeing parents from different sides of an issue sit down with a mediator and talk about how to support (and not judge) each other's parenting perspectives. New episodes air Mondays on Facebook.