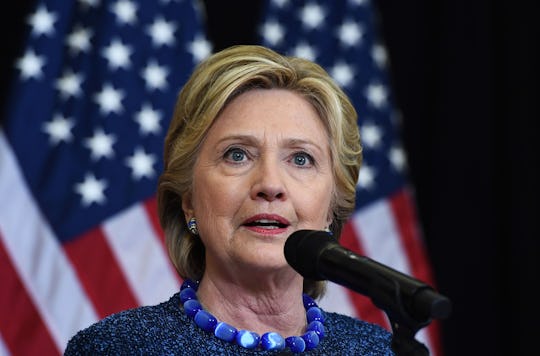 JEWEL SAMAD/AFP/Getty Images
Everything You Need To Know About Hillary Clinton's Emails & James Comey's FBI Letter
Election day is less than two weeks away, and Democratic presidential nominee Hillary Clinton has a strong lead in most national polls. While she could be feeling cautiously optimistic, a recent road block was thrown in her path by the FBI at the 11th hour; the investigation into Clinton's private server emails while serving as Secretary of State that was closed in July was under new scrutiny as of Friday as the result of emails found in connection to Anthony Weiner. What could this mean for Election Day on Nov. 8? Before you head to the polls, here is everything you need to know about Clinton's email and FBI Director James Comey's letter to Congress on Friday.
Despite the fact that the original FBI investigation into Clinton's use of a private server while sending emails was closed in July by Comey himself, the FBI Director wrote a letter to eight Republican committee chairmen on Friday stating that the bureau would be investigating additional emails. Some Democrats are crying foul, questioning the timing of Comey's announcement so close to the election, with Clinton campaign chairman John Podesto telling The Washington Post:
It is extraordinary that we would see something like this just 11 days out from a presidential election. The Director owes it to the American people to immediately provide the full details of what he is now examining. We are confident this will not produce any conclusions different from the one the FBI reached in July.
The Emails May Not Be From Or To Clinton
Despite the fact that Comey announced publicly that he was looking into a closed investigation into the actions of a presidential nominee only 11 days before the election, the bureau has yet to release any more information about those emails. Clinton's camp is justifiably anxious for disclosure, with Clinton saying in a press conference:
Voting is already underway, so the American people deserve to get the full facts immediately.
These emails allegedly came to Comey's attention when the FBI was investigating disgraced New York politician Anthony Weiner, the ex-husband of Clinton top aide Huma Abedin. Weiner is under investigation for engaging in an illicit online relationship with a 15-year-old girl, and multiple sources told NBC News that Weiner's laptop was also being used by Abedin. Weiner could not be reached for comment.
The FBI Has Not Contacted Clinton
While Comey took the time to contact eight Republican committee chairmen, and compose a letter to FBI employees explaining his controversial decision, he has yet to contact Clinton, according to NBC News. Clinton has said that she has no idea what the emails might say, but is confident that the investigation into these emails will end the same way the initial investigation ended in July; with no criminal charges. At a press conference in Des Moines, Iowa, Clinton said; "I'm confident whatever they are will not change the conclusion reached in July."
Comey Did Not Have Justice Department Approval To Send That Letter
In a letter to FBI employees, Comey wrote on Friday:
Of course, we don't ordinarily tell Congress about ongoing investigations, but here I feel an obligation to do so given that I testified repeatedly in recent months that our investigation was completed. I also think it would be misleading to the American people were we not to supplement the record. At the same time, however, given that we don't know the significance of this newly discovered collection of emails, I don't want to create a misleading impression. In trying to strike that balance, in a brief letter and in the middle of an election season, there is significant risk of being misunderstood, but I wanted you to hear directly from me about it.
Comey has come under fire for his decision to write a letter to eight Republican committee chairmen so close to an election. While he did give notice to the Justice Department before he sent that letter, no officials gave their approval and Comey made an independent decision to go public. This goes against the long-standing policies of both the FBI and the Justice Department to avoid publicly commenting on politically sensitive issues within 60 days of an election, according to CNN. His letter to the committee chairmen read in part:
In connection with an unrelated case, the FBI has learned of the existence of emails that appear pertinent to the investigation. I am writing to inform you that the investigative team briefed me on this yesterday, and I agreed that the FBI should take appropriate investigative steps designed to allow investigators to review these emails to determine whether they contain classified information, as well as to assess their importance to our investigation.
As the election draws near, it will continue to be critically important to consider all of the facts, rather than simply buying into conjecture. Those emails need to be released, so that the country can go about the business of electing the next president.