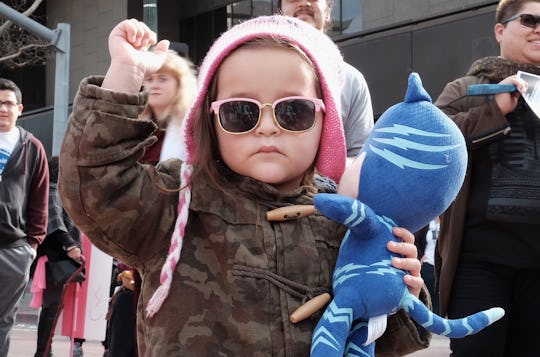 Sarah Morris/Getty Images News/Getty Images
Everything You Need To Know About The 2018 Women's March
After last year's historic Women's March, it's no surprise that the event's organizers are back one year later in full force. On Sunday, Jan. 21, those behind the Women's March will meet in Las Vegas, Nevada for the first-ever Power to the Polls event. And on Saturday, Jan. 20, there will be Women's Marches and related events in major cities and small towns taking place all over the globe. A year has passed since President Donald Trump took office, but people are still fighting for equality as hard as ever. If you are planning on attending one of the many events happening this weekend, here is every detail about the 2018 Women's March you need to know — no matter where you live.
Last year, the Women's March was headquartered in Washington, D.C. But this year, the organizers are changing things up and heading to Las Vegas, Nevada for the weekend's main event: Power to the Polls. As explained on the event's website, the Women's March organizers will use the Power to the Polls rally to celebrate work done in the past year as well as kick off a national voter registration tour. "This next stage of the movement will channel the energy and activism of the Women's March into tangible strategies and concrete wins in 2018," reads a statement on the website, adding:
The national voter registration tour will target swing states to register new voters, engage impacted communities, harness our collective energy to advocate for policies and candidates that reflect our values, and collaborate with our partners to elect more women and progressives candidates to office.
As explained on the website, the organizers chose Las Vegas to host the event because it's a swing-state "that will shape the Senate in 2018." Speakers will include actress Marisa Tomei, Planned Parenthood Federation of America president Cecile Richards, and Black Lives Matter co-founder Alicia Garza.
Power to the Polls will kick off at 10 a.m. on Jan. 21 at the Sam Boyd Stadium in Las Vegas, Nevada. The event's website has detailed information on how to register, transportation, accessibility, and more. But as for the marches happening the day prior, here's everything you need to know:
The New York City Women's March
More than 400,000 protestors marched through New York City during the 2017 Women's March, according to The New York Daily News. So naturally, NYC will be a major hub for this year's Women's March, too. In fact, according to HuffPost, the New York City and Washington, D.C. Women's Marches are expected to be this year's biggest.
As reported by The Cut, the festivities will run from 11 a.m. to 3 p.m. on Jan. 20, kicking off at 72nd Street and Central Park West. At 11:30 a.m. there will be a rally on Central Park West between 61st and 62nd Streets, and at 12:30 p.m., the official marching portion will begin.
Several related events are planned throughout the city, including Feminism & Faith in Union Square Park on Jan. 21; Women Run 2018: Post-March Celebration NYC in Chelsea on Jan. 20; After March Event: Warm up, Sing Out and Smooze on the Upper West Side on Jan. 20; and Women's March NYC Chapter: March MeetUp happening on the Upper West Side right before the march on Jan. 20.
And for those New Yorkers who live outside of the city, there are plenty of other Women's March events happening all over the state. The Women's March website allows users to search by location, revealing that there will also be gatherings in New York towns including Port Jervis, Woodstock, Albany, Cobleskill, as well as in neighboring states New Jersey, Pennsylvania, and Connecticut.
Women's March On Washington 2018: March On The Polls
As mentioned above, the Women's March Washington, D.C. is only going to be a sister march this year — but it's still expected to be one of the biggest Women's Marches of 2018. According to the D.C. March's Facebook event page, the rally will begin at 11 a.m. at the reflecting pool facing the Lincoln Memorial. Speakers will address the crowd beginning at 1 p.m., from the steps leading up to the memorial.
Other D.C. Women's March events include How Roe v Wade and both the Pro-Choice and Pro-Life Movements Affect African-Americans on Jan. 20 at 1 p.m. And if you live adjacent to D.C., there will also be events in Baltimore, Annapolis, Arlington, and Delaware.
The Women's March In Los Angeles
The Los Angeles Women's March was the most widely attended Women's March of 2017, with over 750,000 protestors, according to crowd size estimates. So, it's no surprise that the City of Angels is going all out this year with an impressive roster of speakers, including Sen. Kamala Harris, trans-health advocate Blossom Brown, Beverly Hills Mayor Lili Bosse, Congresswoman Judy Chu, and President and CEO of Planned Parenthood Los Angeles Sue Dunlap.
The 2018 Los Angeles Women's March will kick off on Jan. 20 with a rally at 8:30 a.m. on 5th and Hill near Pershing Square, and the march will begin at 10 a.m.
Sister Marches
There will be marches and rallies all over the world this weekend. In fact, the Women's March website estimates that 4,956,422 protestors will march at 673 marches. Pretty dang awesome! You can search for your city here. And even if you can't attend, you can support the cause by registering to vote or donating to the movement, too.
Check out Romper's new video series, Romper's Doula Diaries:
Watch full episodes of Romper's Doula Diaries on Facebook Watch.