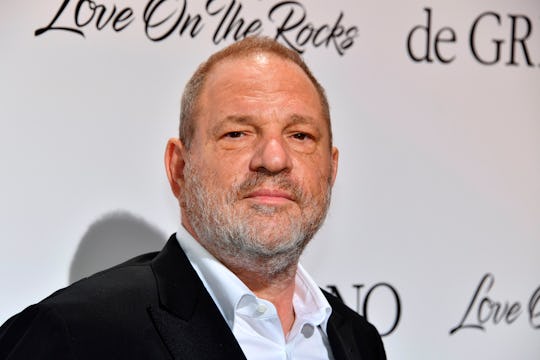 YANN COATSALIOU/AFP/Getty Images
Everything You Need To Know About The Harvey Weinstein Sexual Harassment Allegations
Harvey Weinstein has long been known as the ultimate star-maker in Hollywood. As the co-founder of Miramax Studios and co-chairman of The Weinstein Company, Weinstein has been thanked from the Oscars podium so often it's become something of a running joke. Right now, however, people are not focused on the story of Weinstein's career in Hollywood. After Thursday's explosive report in The New York Times about three decades of alleged sexual misconduct with multiple young women, here is everything you need to know about the sexual harassment allegations made against Weinstein.
The New York Times report alleged that Weinstein had been accused of "decades of sexual harassment" by several women, settling eight of those reported sexual harassment cases out of court, according to two company officials who spoke with The New York Times on the condition of anonymity. Those settlements were reportedly reached between 1990 and 2015.
In a statement shared with Romper via Weinstein's lawyer, Lisa Bloom, the movie mogul responded to the allegations and explained that he has reportedly taken a leave of absence from his company. According to the statement, he added:
I came of age in the ['60s] and ['70s], when all the rules about behavior and workplaces were different. That was the culture then. I have since learned it's not an excuse, in the office — or out of it. To anyone. I realized some time ago that I needed to be a better person and my interactions with the people I work with have changed. I appreciate the way I've behaved with colleagues in the past has caused a lot of pain, and I sincerely apologize for it.
Another attorney reportedly retained by Weinstein, Charles Harder, contends that the story published in The New York Times is at least partially false, and told CNN that he is planning to sue the publication on behalf of the movie producer.
One of the women to speak out against Weinstein in The New York Times was actress Ashley Judd, who told the publication that she was asked to Weinstein's hotel room 20 years ago and allegedly asked if she would allow him to give her a massage, or if she would be willing to watch him shower. Judd told The New York Times that she continued to struggle with Weinstein's advances for some time after the fact:
I said no, a lot of ways, a lot of times, and he always came back at me with some new ask. It was all this bargaining, this coercive bargaining.
In 2015, the Divergent star and fellow actress Rose McGowan came forward in a Variety article with stories of sexual misconduct but refused to name their alleged predators. Almost exactly two years later, Judd decided to come forward, according to The Hollywood Reporter, because she was done with this shroud of secrecy.
"Women have been talking about Harvey amongst ourselves for a long time, and it's simply beyond time to have the conversation publicly," Judd told The New York Times.
Several other women shared their own stories of reportedly feeling sexually harassed by Weinstein, including one female assistant who told to The New York Times that she was allegedly forced to give Weinstein a massage while he was naked, an act which reportedly left her "crying and distraught," according to former Weinstein employee (and the unnamed woman's colleague) Lauren O'Connor.
Weinstein's lawyer is also the same woman who has famously represented several women who were suing former Fox CEO Roger Alies for sexual harassment. Bloom shared a statement with Romper regarding her defense of Weinstein which read in part:
As a women's rights advocate, I have been blunt with Harvey and he has listened to me. I have told him that times have changed, it is 2017, and he needs to evolve to a higher standard. I have found Harvey to be refreshingly candid and receptive to my message. He has acknowledged mistakes he has made. He is reading books and going to therapy. He is an old dinosaur learning new ways. He wants to reach out to any of the women who may have issues with him to talk to them in a respectful, peaceful way, with me present if that is acceptable to them. He has been working on a major foundation with USC with one of the largest grants for female directors, which started well over a year ago. And as we work together on a project bringing my book to the screen, he has always been respectful toward me.
Bloom is also the daughter of celebrity women's rights attorney Gloria Allred. While Bloom told The New York Times she has been working with Weinstein for the past year to help him with his gender dynamics in the workplace, Allred told The Wrap that she would be willing to represent any accusers who might still come forward.
In the wake of Weinstein's threat to sue The New York Times, the publication could be facing a bit of a battle. Weinstein's other lawyer, Harder, notoriously represented former WWE wrestler Hulk Hogan against the now defunct media outlet Gawker, and has publicly called out the publication for "reckless" reporting.
Watch Romper's new video series, Romper's Doula Diaries:
Check out the entire Romper's Doula Diaries series and other videos on Facebook and the Bustle app across Apple TV, Roku, and Amazon Fire TV.