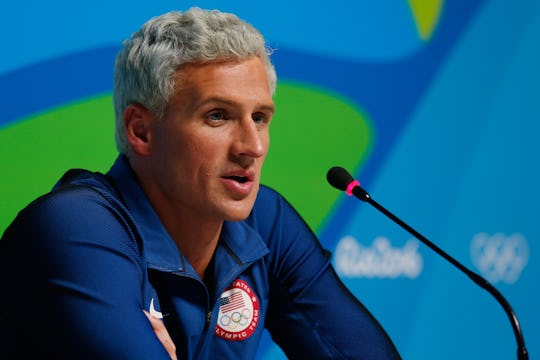 Matt Hazlett/Getty Images Sport/Getty Images
Everything You Need To Know About The Ryan Lochte Robbery Case
The plot thickens as three Olympic swimmers are being questioned by Brazilian authorities in the wake of Ryan Lochte's claim that the group was robbed at gunpoint over the weekend. The story is changing by the minute, but here's everything you need to know about the Ryan Lochte robbery case.
Jack Conger and Gunnar Bentz were removed from a flight last night and questioned by police before being released this morning, said USOC spokesperson Patrick Sandusky in a statement to Romper. Jimmy Feigen is also still in Brazil as far as authorities know, and is also being questioned. But Ryan Lochte, who originally filed the report concerning the robbery, has left the country and is back home in the states. In a telephone interview with Matt Lauer last night, Lochte denied lying about the robbery and said that the discrepancies in his story as he's recounted it to Olympic officials, authorities, and the media are a result of the trauma the event caused him and his teammates.
A Brazilian judge, who ordered Lochte's passport be seized yesterday, does not believe his claims to be true. Basing her decision in part on security footage, which was obtained by The Daily Mail, that shows Lochte and his teammates returning to the Olympic village after their night out, not appearing to be as emotionally shaken as they claimed.
Here are some additional aspects to the case you need to know.