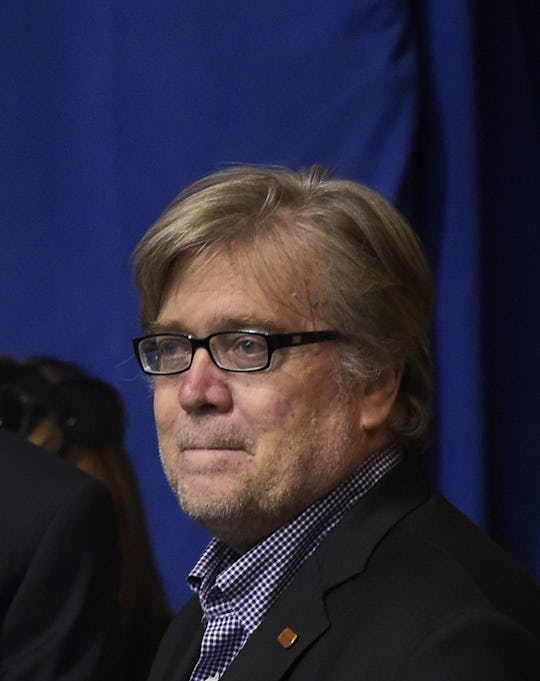 MANDEL NGAN/AFP/Getty Images
Evidence Of Steve Bannon's Anti-Semitism Shows Why People Are Disturbed By Trump's Pick
It's been a week since Donald Trump's stunning presidential win shocked people throughout the country – a week since many anxiously tuned in to the polling results from each state until the wee hours of last Wednesday morning. But now, as reality has set in on all sides, communities across the country have taken to the streets to protest Trump's win, with efforts to combat racist, misogynistic, anti-Muslim, anti-Semitic, anti-LGBTQ, and anti-immigration rhetoric. Simultaneously, Trump has appointed Steve Bannon to a position in the White House. The problem? For many, Bannon, who is the former executive chairman of the so-called "alt-right" news site Breitbart, has notably represented the very discriminatory rhetoric many continue to protest. And evidence of Bannon's anti-Semitism, along with other troubling aspects of his past, are raising alarms across the nation.
Trump appointed Bannon as the chief strategist of his administration. The appointment – at a time when many are deeply concerned about Trump's campaign rhetoric that appealed to white nationalists, former Ku Klux Klan leader David Duke, and his own public and troubling track record with race-related issues – is just another cause for concern for many troubled by what his presidency will mean for marginalized groups.
Since Bannon was named chief strategist, white nationalists who unapologetically oppose multiculturalism and espouse white supremacy, have celebrated the appointment, while groups like the Anti-Defamation League have vehemently opposed it.
So what is the evidence for Bannon's anti-Semitism, specifically?
As New York Magazine reported, Bannon's ex-wife, Mary Louise Piccard, accused the former Breitbart executive of anti-Semitism in 2007. During a divorce battle over child custody, one in which Piccard accused Bannon of domestic abuse, she also accused Bannon of allegedly making anti-Semitic remarks on a number of occasions. (Bannon's representatives have not responded to Romper's request for comment regarding the abuse claims.)
In one example during Piccard's sworn declaration, she reportedly said this of Bannon as she recalled on times they both toured private schools for their daughters, according to NBC News:
...[Bannon] went on to say the biggest problem he had with Archer is the number of Jews that attend. He said that he doesn't like Jews and that he doesn't like the way they raise their kids to be 'whiney brats' and that he didn't want the girls going to school with Jews.
When NBC News reported on Piccard's allegations in August, Bannon's personal spokeswoman, Alexandra Preate, told NBC News: "At the time, Mr. Bannon never said anything like that and proudly sent the girls to Archer for their middle school and high school educations."
But many have also pointed to Breitbart, and the content that undeniably catered to white supremacists, and anti-Semitic views. Bannon himself has admitted that its content attracts anti-Semitism. In an interview with Mother Jones in August, he said anti-Semitics and racists are "absolutely" involved with the "alt-right" movement which Breitbart champions. Breitbart has not responded to Romper's request regarding the claim that it publishes anti-Semitic content.
"Are there anti-Semitic people involved in the alt-right?" he said. "Absolutely. Are there racist people involved in the alt-right? Absolutely. But I don't believe that the movement overall is anti-Semitic."
As ABC News pointed out, some of Breitbart's headlines alone are telling reasons why people are alarmed. One headline that read, "Bill Kristol: Republican Spoiler, Renegade Jew," unapologetically represented anti-Semitism, and sparked widespread opposition.
Bannon may have denied that the movement he has championed, cultivated, and been very much a part of is "overall" anti-Semitic, but Breitbart's content and the white supremacists and anti-Semitics it has encouraged, is absolutely telling.