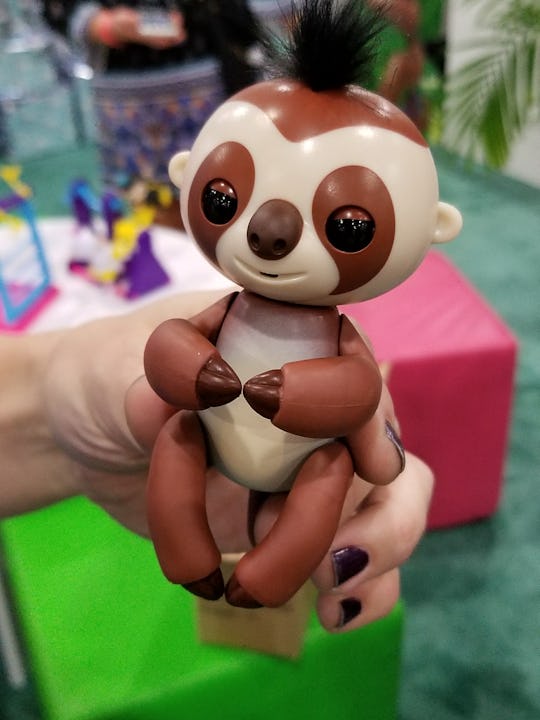 Courtesy of Mishal Ali Zafar
An Exclusive Sloth Fingerling Is Coming Out — Here's How To Get It
Kids of all ages are obsessed with the newest toy trend Fingerlings, and it's no wonder that toy stores all over the world are having a hard time keeping them in stock. If you are a parent, you might remember the holiday chaos surrounding Hatchimals last year, with re-sellers pricing them at double, even triple the price. It seems that the same is true for Fingerlings this year, but there is a little bit of light in this holiday tunnel. By the end of November, Walmart will be releasing an exclusive sloth Fingerling. But you'll have to be quick. Fingerlings aren't just small potatoes anymore — they're hot potatoes that you may have a tough time getting your hands on.
At the recent Play Fair in New York City, a representative for WowWee, the toy company behind the increasingly popular Fingerlings, told Romper that Kingsley the Sloth will be released exclusively through Walmart towards the end of November, just in time to fulfill your kid's holiday wish list. Kingsley has already been released in the UK, and seems to have been released sporadically in the US, but according to the WowWee representative, there will be a huge holiday release through Walmart. That means if you've noticed the sloth Fingerling, but weren't sure where you could snag it, it's time to pay attention.
If you aren't familiar with Fingerlings, they are tiny, robotic monkeys that can cling to your fingers, pencils, notebooks, and other surfaces while they interact and respond to your touch, sound, and gestures. They can respond with over 40 different animations and sounds, and can be rocked to sleep, tickled to laugh, and they can even burp and fart. Best of all, they are easy to play with and adorable, which is why they are so popular with young kids and adults alike.
The holiday exclusive Fingerling, Kingsley, is not a monkey, but a sloth, so he looks quite different from the regular Fingerlings. He's brown and white, and cute as a button. According to WowWee, he can respond to sound, motion, and touch. He has eyes that blink, he can turn his head side to side, and can make silly sloth-like noises. He can respond with gestures too. For example, if you blow him a kiss, he will blow a kiss back, and if you make a loud noise, you can watch him get excited. Basically, Kristen Bell would cry harder than she did on Ellen if she saw this guy.
As of now, there are only two exclusive Fingerlings that aren't monkeys — Kingsley the Sloth and Gigi the Unicorn. Gigi sold out right away, and is selling for up to quadruple the price from re-sellers on Ebay and Amazon. As for Kingsley, you can also find him for double or triple the price on Ebay and Amazon, but hopefully you will be able to nab one in store at Walmart or online once they become available.
If you can't get your hands on Kingsley, you may get lucky with a regular Fingerling monkey. They are just as cute, and are almost the same as the exclusives, minus the character design. They can also respond with the same interactive animations and sounds, and cling and hang to things as well. WowWee makes six versions of their Fingerling monkeys including Bella (pink), Boris (blue), Finn (black), Mia (purple), Sophie (white), and Zoe (teal). They have a pink glitter one, Rose, that will be released as an Amazon exclusive on Nov. 20, but it looks like its pre-orders may be sold out.
Unfortunately, the exact date of release is not known, so if you are hoping to get Kingsley, you should definitely keep an eye out. There are in-stock tracker websites, like Brickseek and Zoolert, that can alert you when toys become available, but you should also call your local Walmart as the month winds down to find out if there's a release date set. To pick up this little guy for the holidays, you'll have to be a lot faster than a sloth.
Check out Romper's new video series, Romper's Doula Diaries:
Check out the entire Romper's Doula Diaries series and other videos on Facebook and the Bustle app across Apple TV, Roku, and Amazon Fire TV.