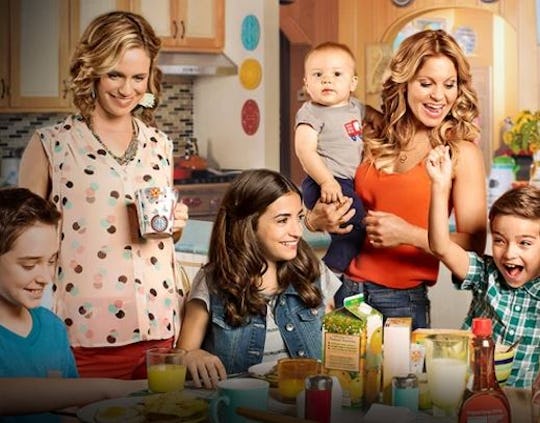 Netflix
An Extended 'Fuller House' Trailer Is Here & It Will Make '90s Kids Super Nostalgic
Children of the '90s, rejoice: on Tuesday morning, Candace Cameron-Bure, Jodie Sweetin, and Andrea Barber paid a visit to the Ellen show, and they brought a very important gift for the world: the full-length trailer for Fuller House, the upcoming Netflix revival of Full House.
In a video published on EllenTube, the trio discuss how they've remained close in real life in the years since Full House went off the air. In fact, the whole cast has kept in touch. Cameron-Bure shares an anecdote about a Christmas party that turned into a slumber party with Barber, and you'll never guess who they were tipsy-texting with! All three women said that they regularly bring their own kids to the set where they grew up, proving that life really does imitate art.
Although the Olsen twins don't plan to return as Michelle Tanner, Cameron-Bure maintains that the door is always open, should they change their minds. Sweetin also assures fans that Michelle is often referenced on the show. However, the rest of the gang is on board; in addition to the residents of the house, Bob Saget, Dave Coulier, John Stamos, and Lori Loughlin can all be seen in the trailer. And while Danny tragically didn't end up marrying Vicki, TV Line reported that he did eventually find someone; Eva LaRue (who you might remember from CSI: Miami) will play his wife, Teri. Go, Danny!
The series will be very similar to the original. While Full House saw Danny Tanner, a widower with three girls, shacking up with his best friend and brother-in-law, Fuller House's D.J. Tanner-Fuller will fill her dad's shoes as a recently widowed mom to three boys. Just like last time, the youngest is a baby, played by twins. In the trailer, fans see D.J. tearfully talking to her baby, Tommy, about how they're on their own, and the family overhears her on the baby monitor (so yes, they're also bringing back tired sitcom tropes). Sister Stephanie offers to move in and help out with the kids, followed by best friend Kimmy Gibbler. Kimmy is also a single mom to a tween daughter.
So, same house, same cast, same premise. But will Fuller House be as delightfully corny as the original show? And more importantly, will it still feature a laugh track and those cringeworthy "moral" moments at the end of each episode? It looks like they're changing as little as possible; the trailer trots out three of the original catchphrases, and even the couch is the same. IMDb obsessives will notice that D.J.'s ex, Steve and her cousins Nicky and Alex are returning for at least one episode. This could work; Disney did the same thing, rebooting Boy Meets World as the gender-swapped Girl Meets World, and it's performed well. The Wrap reported that it's been picked up for a third season in 2016. Whether fellow TGIF alum Fuller House succeeds depends not only on how loyal its original fans are, but whether Netflix is able to keep it fresh enough for those fans' kids to enjoy along with them.