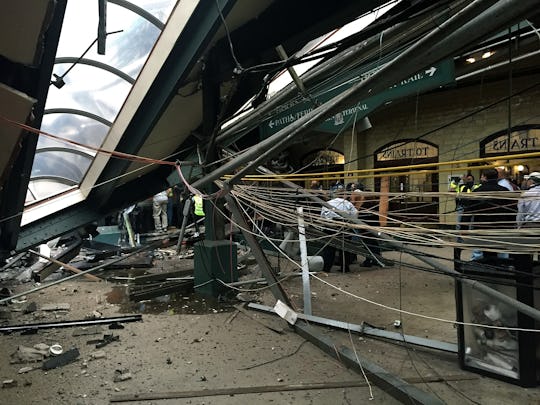 Pancho Bernasconi/Getty Images News/Getty Images
Eyewitness Accounts Of The Hoboken Crash Show The Shock & Confusion Of The Scene
Early Thursday morning, reports trickled in of a train crash in Hoboken, New Jersey. Shortly after the news began to cycle out, eyewitness accounts of the Hoboken crash have helped to color the terrifying scene unfolding there. Local officials confirmed to CNN that more than 100 were injured in the crash, and early reports indicate that at least one person died as a result of this morning's crash. As for what caused the Hoboken crash, CBS News' live broadcast reported that the device on the track designed to stop the train in case of an emergency did not stop, in fact, stop the train. That either indicates that the train was going at a very high speed or that there were other elements at play. At this time, it's too early for local and government officials to confirm whether or not the Hoboken crash was intentional. Local officials are still on site working to figure out what happened to cause the crash this morning.
In a statement given to ABC News, Jennifer Nelson, the director of media relations for NJ Transit, said, "There is heavy structural damage to the terminal, which is why it was evacuated. It is not safe to go in there right now." The train, running on the NJ Transit Pascack Valley line, started its journey into New York in Spring Valley at 7:23 a.m., according to ABC News, and was late for its scheduled arrival in Hoboken at 8:38 a.m.
Eyewitness Accounts Detail The Terror In Hoboken
A passenger on the train, Linda Albelli, told Reuters that she was sitting in her seat in one of the rear cars when the crash happened. Just minutes before the train arrived in the station, she said she knew something was wrong:
I thought to myself, 'Oh my god, he's not slowing up, and this is where we're usually stop. We're going too fast,' and with that there was this tremendous crash.
Corey Futterman, a passenger on the train who was not injured in the crash, told ABC News:
We had just left Secaucus and that's where about half or, if not, more than half of the train gets off the car to transfer to New York. We were approaching Hoboken and the train did not seem to be slowing down whatsoever and then all of a sudden everything just crashed and shook.
Reports Outside Of The Hoboken Station
Local Organizations Are Teaming Up To Offer Help
Amidst the chaos and devastation on the scene, organizations are doing their best to support victims and those affected however possible.