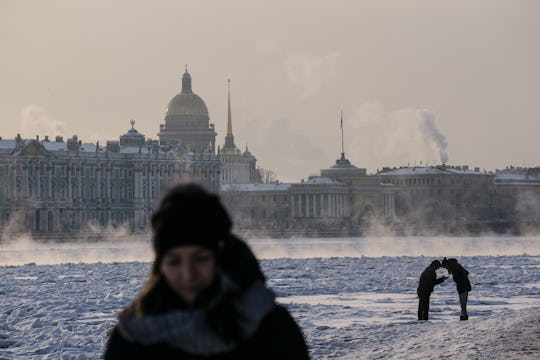 Alexander Aksakov/Getty Images News/Getty Images
What It Was Like To Be In St. Petersburg During The Blast
After a deadly blast in Russian subway train Monday, eyewitness accounts of the St. Petersburg explosion reveal just how terrifying it was. The explosion occurred in two train cars, Reuters reported, as the train arrived at the Technology Institute station. Initial photos and videos of the train show passengers and bystanders attempting to see if there are still passengers inside needing help.
According to Buzzfeed News, a woman named Lyudmila Vinnyk gave her account of the blast to Russia 24:
I was just making a change on that line where the emergency situation occurred. At this station all people were running. I smelt smoke, [there was] smoke, everyone were running fast to the escalator and towards the exit. A lot [of people], all running. All, of course, scared.
Stanislav Listyev, who was entering the Sennaya Ploschad station that the train was coming from when the explosion occurred, gave this account of the explosion to CNN:
I felt an explosion wave underneath, everything was filled with smoke, people started panicking. So the trains stopped and almost immediately the evacuation started.
Listyev said the smoke was coming from the tunnel between Sennaya and Technology Institute stations.
Videos taken by witnesses also surfaced, showing emergency services responding to victims:
Live video of the scene at the Sennaya Ploschad station is here:
Russian President Vladimir Putin, who was reportedly in St. Petersburg at the time of the explosion, said in a statement, "The causes are not clear, it's too early. We will look at all possible causes, terrorism as well as common crime."
The whole St. Petersburg metro system is closed following the blast.