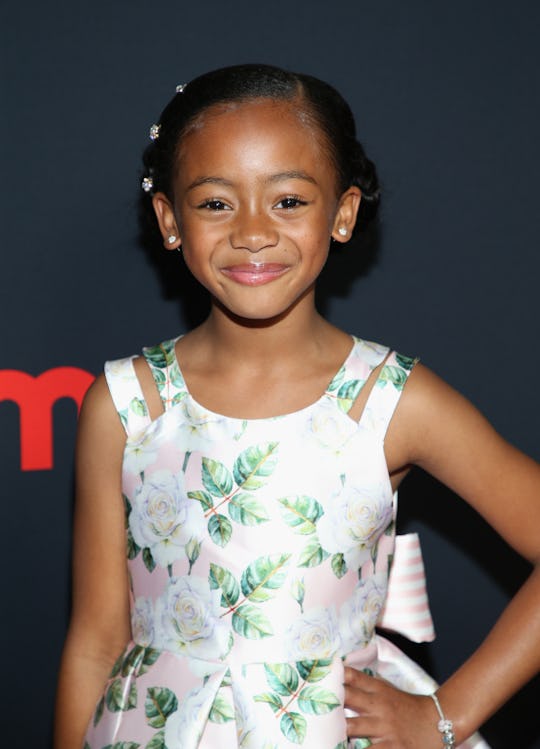 Phillip Faraone/Getty Images Entertainment/Getty Images
The Littlest Pearson Has A Lot To Say About Life On The Set Of 'This Is Us'
Faithe Herman knows how to balance the important things in life. The young actress plays the youngest member of my favorite fictional TV family and like any kid trying to get through school while also, you know, working on a mega-hit show, Herman's learned a lot in her mere 10 (almost 11) years on this planet. Whether it's modeling, acting, or standing alongside the superstars of today, the adorable Faithe Herman of This Is Us is ready for her close-up — just don't ask who her favorite cast member is (I wouldn't be able to choose either).
"They are all pretty awesome," she tells Romper via email. "Everyone makes it fun to work. We have a lot of fun on set in between each scene." Herman is currently in mid-season filming Season 3 of This is Us but don't expect to hear any spoilers (but who is "her?") because she's having too much fun to spill. As for a typical day on set, it's a delicate balance. "I arrive on set and usually go straight to school," she says. "I will then go into wardrobe, hair and makeup when they are ready to call us to set. We all then do a quick rehearsal, and after that we go into filming." Herman admits, "it is hard sometimes to do a whole lot because I do still attend traditional/public school, however I hope to maybe get to some fun projects when we wrap the season. I never know too much ahead of time."
Even at 10, this girl's seriously got it together. But she wasn't always so sure she even wanted to be in the business, let alone on a regular show. "It was never a thing I told my mom I wanted to do," she says. She admits to being shy when first starting out at just 5-years-old. "Mom thought it would be fun to model and maybe be in a commercial so she started us in background work to see if we even liked it. My sisters grew older and did not want to do it anymore, however I was the youngest, so I just stuck with it. My mom eventually got me and my sister an agent. After doing several auditions I actually started liking it more and having fun."
As for how she landed the role of a lifetime, it's clearThis is Us creator, Dan Fogelman, along with the executive producers, John Requa and Glenn Ficarra — who executed one of the most gorgeous pilots in TV history — had a vision of who they wanted Annie Pearson to be and they were right on the money. "I only had two auditions and I had to memorize the lines for both the roles of Annie and Tess because my agent didn't know which role I would audition for. I went in off book and my first audition went really well. My call-back came about 3 weeks later."
As for the second audition, Herman met with the aforementioned brilliant minds with casting. Even for professional, working adults, the audition process is tedious and stressful, but Herman handled it like a seasoned entertainer saying, "I was nervous, but I went in and felt good about it. Two days later mom got the call from my agent that I booked the role of Annie Pearson. My mom surprised me at dinner and I was so excited. It was my very first pilot that I ever auditioned for, so I never knew about how it would turn into a television show."
This is Us aside, Herman's staying busy with her next big project as Darla Dudley in the forthcoming DC Comics film Shazam! (with Zachary Levi). Though, if she had a superpower in real life, she confessed it wouldn't necessarily be the Speed of Mercury (as granted by Wizard Shazam). "I would love to time travel," she says. "I think it would be fun to travel to the past and future." A girl after my own heart.
Speaking of acting, you'd think with all of these amazing projects on her plate, there'd be a clear winner, but Herman says she loves something different about each. "I love TV because there is that sense of knowing what each day will be like, and movies because it is fun being a totally different person and going somewhere different. In Shazam!, I got a chance to go to Toronto, Canada and work with some amazing kids [and Zackery Levi]. We had so much fun."
She also takes advice from her peers in stride, saying that, because This is Us is her first time acting, everyone is super supportive. "Mr. Sterling told us don't worry if we mess up on our lines; it happens," she says. "Just keep going. I have learned a lot just from working with everyone. I think that in a way, from being on the show, it helped prepare me for Shazam!" If only everyone had their very own Sterling K Brown to get through times of doubt, am I right?
If you're getting tired just looking at Herman's schedule, don't worry — she does have free time and says she "cherishes it." Whether it's spending time with her family or hugging her 4-month-old malti-poo, Maverick, she's content. Regardless of what comes next — or whether there will be answers soon about the flash forward with Tess and not Annie on This is Us — she's enjoying the ride. "Sometimes I even just have fun playing alone, making slime and playing with my dolls," she says. *Sigh* Hit show who? Being nine has honestly never been so sweet.