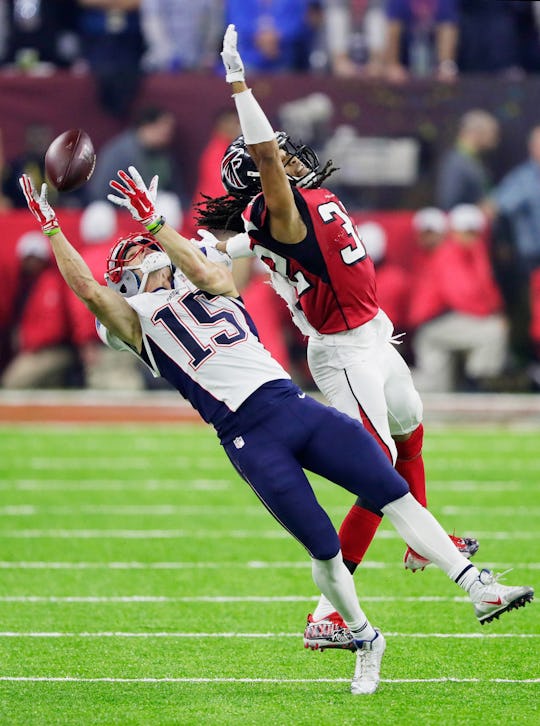 Jamie Squire/Getty Images Sport/Getty Images
Memes To Get Falcons Fans Through The Big Loss
It's as heartbreaking as election night — the Atlanta Falcons lost Super Bowl 51 to the New England Patriots. And in overtime, no less. But despite the heartbreak, the Falcons lose Super Bowl 51 memes are taking over the internet and, hopefully, they can alleviate some of the pain. (But probably not.)
There were a lot of haters leading up to Super Bowl 51 and I get it. Tom Brady and the New England Patriots have won four Super Bowls, according to Sports Illustrated, and are known for being one of the greatest teams in all of football. The Atlanta Falcons? They haven't been to the Super Bowl since 1999, as noted by the Atlanta Journal Constitution.
The Falcons were the underdog, and they knew that. Heck, all of Atlanta knew that. But there was a lot of hope in our city, in our team, and in our coach that pushed us to think the Falcons could pull this off. Apparently, most of the country agreed. Whether it's because other people simply hate the Patriots or because they were really rooting for the Falcons, we had more than just Atlanta on our side.
According to CNN, Atlanta Falcons' quarterback Matt Ryan hasn't backed down all season either. Falcons head coach Dan Quinn told CNN that Ryan was a man on a mission, full of grit, and has continued to do something over and over again without backing down or losing his passion.
He decided to rise up, every day. And Atlanta went along with him.
The city of Atlanta was hoping to celebrate hard, but it looks like Super Bowl 51 is another piece of Atlanta sports history that will make us think of heartbreak and despair. Seriously, no idea how it got to this point, but Atlanta fans are used to this. We give our heart and soul to a team, we bring an entire city together, and we are prepared to fight and fight and fight and we end up losing.
The internet's not ready to let us forget it either. While nobody really wants to have to share a meme about the Falcons losing Super Bowl 51, it turns out that's exactly what our news feed needs right now. And maybe the humor can remind us of why we believe in Atlanta — because we'll keep trying and trying, no matter what, even when the odds are totally against us, we'll continue to rise up.
And then we'll blow it.
Ugh.