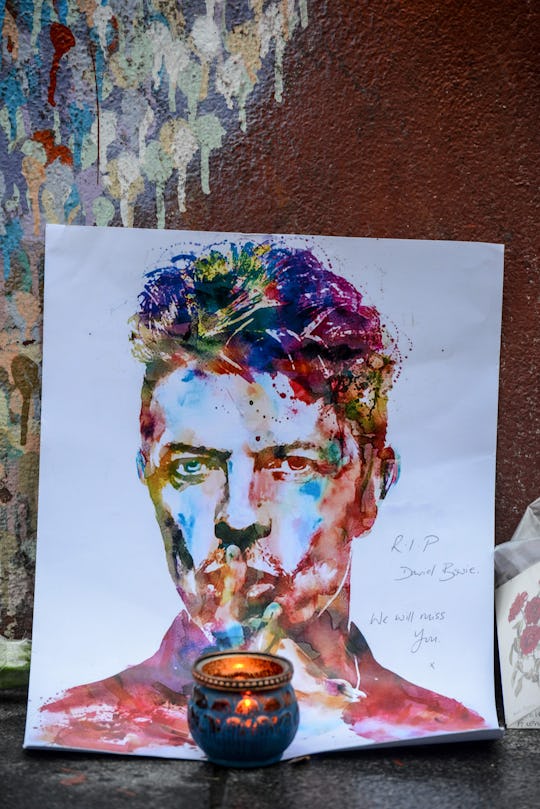 Fan Reactions To David Bowie's Death Show How Irreplaceable He Is
As the news spread early Monday that the pop culture legend had died of cancer at age 69, fan reactions to David Bowie's death showed just how many people the icon touched with his life and work. The announcement was first posted on Bowie's official Facebook page:
January 10 2016 - David Bowie died peacefully today surrounded by his family after a courageous 18 month battle with cancer. While many of you will share in this loss, we ask that you respect the family's privacy during their time of grief.
Immediately, those who worshipped or simply admired Bowie's music and art responded to the Facebook post in shock, sadness, and disbelief:
I'm confused, shocked, and I don't know what to believe. My heart nearly stopped reading this post. I hope this is not true, but if it is, I am truly, truly sorry for the loss of such a great man, performer, musician, and inspiration. My heart goes out to you, David Bowie, the blackstar.
David Bowie, you are the most special .. The odd , the brilliant , the poet , the vocalist , the artist , the bleeding heart , the fashion King , the most unique , and a sunset of 1,000 colors ... Thank you for your music it saved me many times RIP.
Don't be sad he's gone be glad he created the music he did and shared it with you...we all have to die but we don't all share our talents with the world...thank you David Bowie for influencing the world in the way you did..
By Monday morning, the post had over 400 comments. The rock pioneer and legend just released his 25th album, Blackstar, on Friday, his birthday. The New York Times described it as "a collaboration with a jazz quintet that was typically enigmatic and exploratory." The Times also noted that there had been plans for a concert celebrating Bowie's work on March 31 in New York.
On Twitter, fans shared images, videos, memories, and tributes to Bowie's impact:
Residents of South London, where Bowie was born, those who admired him left notes, flowers, candles, and other tokens beneath a mural of him in Brixton.
and out side an apartment where he once lived in Berlin:
Bowie had such a tremendous and very personal impact on fans in part because, as The Times put it, he "wrote songs, above all, about being an outsider." Virtually no other artist has so deftly captured the human experience of alienation in such a resonant, and as a result somehow hopeful, way. As British Prime Minister David Cameron put it, Bowie was a "master of reinvention" — living proof that you can always begin again. Now that he's gone, that's a little harder to believe.
Image: CHRIS RATCLIFFE, ODD ANDERSON/AFP/Getty Images