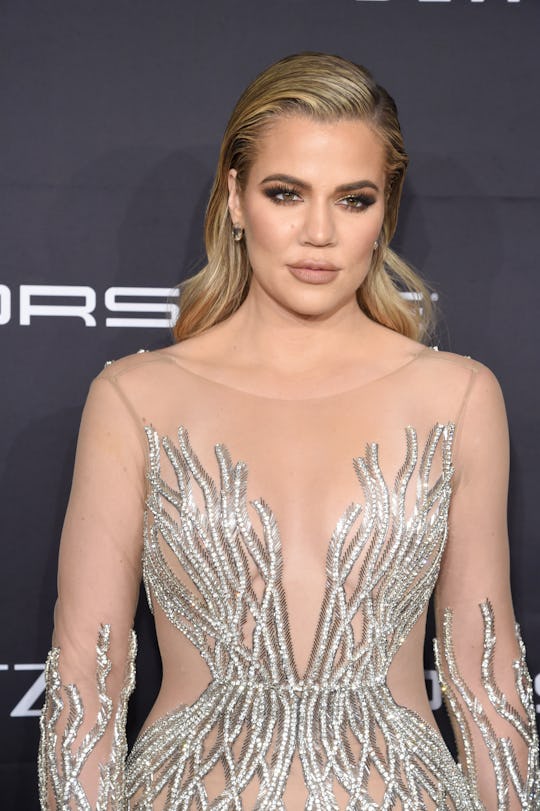 Jamie McCarthy/Getty Images Entertainment/Getty Images
Fans Are Flooding Khloé's Recent Instagram With Horrible Comments, & It's So Wrong
In case you missed the news on Tuesday, people are alleging Tristan Thompson cheated on Khloé Kardashian during her pregnancy — and some claim there's photo evidence. It's an upsetting turn of events, to say the least, especially since Kardashian is only days away from delivering the couple's daughter. But making matters even worse is that some fans are bombarding Khloé Kardashian's recent Instagram with comments about the alleged infidelity. Not only is the hate completely unnecessary, but it also proves that people are continuing to blame the wrong person for this supposed mess. Thompson and Kardashian have not responded to Romper's request for comment.
For the past nine months, Kardashian and Thompson appeared to be very happy together. From gushing Instagram posts to intimate photoshoots, Kardashian and Thompson seemed solid. Unfortunately, things seemingly fell apart for the couple on Tuesday after TMZ released footage of Thompson allegedly making out with two women at a nightclub when Kardashian was three months pregnant. To add insult to injury, The Shade Room posted photos and a video of Thompson allegedly entering a New York City hotel on Saturday night with an unidentified woman. Late Tuesday night, however, TMZ reported that the woman in question is an Instagram model with the handle @ms.stephaniee_, and the outlet claims she supposedly filmed a sex tape with Thompson. Yikes.
Although Kardashian and Thompson have kept quiet throughout this upsetting ordeal, many of their fans have not. And what's especially troubling is that most of the hate seems to be directed at Kardashian. Case in point: fans are leaving a ton of mean comments on Kardashian's most recent social media post. The snap, shared to Instagram on Tuesday, shows Kardashian planting a kiss on Thompson as he holds her bump. "We are ready whenever you are little mama," Kardashian captioned the pic.
Although one might think that people would leave Kardashian alone during this trying time (girl needs to focus on her health right now), many people are bashing her for keeping the romantic post up. Because that's what Kardashian should be worrying about as she prepares to give birth to her daughter, right?
"Lol this still up," someone remarked.
"Lmao delete the pic girl @khloekardashian," another fan added. "No dignity but I guess you're happy."
Others flooded Kardashian's comments section with "jokes."
"He plays better with Khloe than he plays basketball," one fan penned.
"His new Nickname : Third Trimester Tristan," a person wrote in reference to Thompson's past relationship with Jordan Craig, the mother of his first child.
But the most painful comments might be about Kardashian getting her karmic payback.
"She definitely deserved it, it's called karma," a fan argued.
Another person added: "Knowing and willingly dealing and getting pregnant with a man who was in a relationship with his long time pregnant gf. She isn't all the blame but she knew. It came right back around."
"Karma doesn't care if your last name is Kardashian," a follower commented. "I'll take mine, but I know it won't hurt as much as hers does. I'm laughing with the other women."
Of course, Kardashian doesn't deserve the backlash. If Thompson did cheat on Kardashian, then he is the only responsible party in this situation. Not to mention, these rumors are nobody's business. Any discussion of cheating should remain between Kardashian and Thompson.
And more importantly, fans should probably consider how this negativity could affect Kardashian's pregnancy. Not only is Kardashian "scared" enough as it is to give birth, but it's possible that any additional stress could cause health problems for herself and her daughter. Even if you're not a fan of Kardashian, it's hard to disagree that she deserves peace and quiet in the days leading up to her due date.
The good news is Kardashian does have a ton of supporters in her corner. "Love you so much and you deserve the world," a fan wrote to Kardashian. "You'll be an amazing mother and that is all that matters." Well-said.
Check out Romper's new video series, Bearing The Motherload, where disagreeing parents from different sides of an issue sit down with a mediator and talk about how to support (and not judge) each other's parenting perspectives. New episodes air Mondays on Facebook.