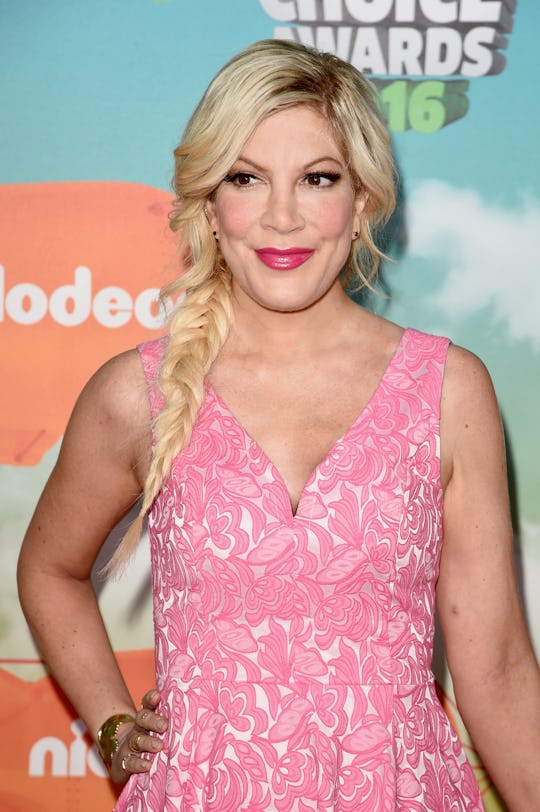 Jason Merritt/Getty Images Entertainment/Getty Images
Fans Are Rallying Around Tori Spelling, & It's The Kind Of Support Parents Need More Of
If you do a quick Google search of Tori Spelling's name, you'll find a lot of headlines talking about her supposed personal issues. From gossip about the 90210 alum's marriage woes to reports of law enforcement making numerous visits to her home, Spelling is at the center of a lot of awful rumors at the moment. But the upside to all of this negativity is that fans are banding together to support Tori Spelling through these tough times. The overwhelming positivity is refreshing, to say the least, and it's a helpful reminder that this is the type of support parents need more of.
On Saturday, police officers were reportedly called to a restaurant in California where Spelling was dining with her husband, Dean McDermott, and five kids, according to Radar Online. Cops were supposedly summoned to the location to settle a public argument between Spelling and McDermott, according to Radar's report, and photos of the alleged incident depict the couple being escorted out of the establishment by responding officers. The concerning incident occurred just nine days after police responded to a 911 call on March 1 regarding a "domestic incident" at Spelling's home, according to People. Audio dispatch of the 911 call later confirmed that the incident involved a "female" with a possible "mental illness," according to The Blast, an entertainment website launched by TMZ.com co-founder Mike Walters in September 2017. Spelling and McDermott's representatives did not immediately respond to Romper's request for comment.
Despite all the supposed drama going on in Spelling's life, however, her Instagram account is business as usual. And following the incident at the restaurant, Spelling took to Instagram on Sunday to share a sweet photo of herself snuggling with her youngest son, 1-year-old Beau. "When I was little I never wanted to nap. As an adult I never could take naps," Spelling captioned the post, according to SheKnows."Now as a #mamabear of 5... I could watch them nap all day. #babybeau #1stnaptime #number5 #mycuddliest."
To be honest, I expected the cute post's comments section to be chock full of hurtful messages critiquing Spelling's parenting abilities. As sad as it is, it's not uncommon for parents to be shamed or questioned when they're going through a difficult time, and there's a tendency for haters to pile on a person when they're vulnerable. But in an awesome twist, Spelling's many followers chose to praise her parenting instead of taking the conversation to a negative place.
"U are a fighter and a fantastic mom," one person wrote. "Stay strong."
"Beautiful pic @torispelling," another fan chimed in. "You are an amazing mother."
One particularly smitten fan said: "Love you sweet lady! It's apparent you're an excellent mommy!"
Others applauded Spelling for practicing self-care. A supporter penned: "A little nap is needed, just to refresh your mind, and body, so you deserve it too, not just for our little one's."
"Take them naps momma! Rest easy and relax! Always a fan," another commenter added.
Did anyone else tear up after reading those heartfelt comments? In an age when mommy-shaming is at its peak thanks to social media, it's comforting to know that many people are at the ready to encourage a parent who might be going through a hard time. Seriously, what's more uplifting than witnessing a parent receive the support and kindness they deserve?
It's also worth pointing out that Spelling's fans didn't attempt to overwhelm her with well-meaning advice. Although it can be tempting to give a loved one (or celebrity, for that matter) a helpful tip, experts advise against this practice if you want to respect the other person's feelings. "Advice giving often shuts down the conversation because the person does not feel heard," psychotherapist Lena Aburdene Derhally told Psych Central. Translation: Spelling's supporters did the right thing by celebrating her strengths. It's this kind of support that every parent out there, famous or not, could use more of. Even if your loved one isn't going through a particularly difficult time, it can't hurt to give them a shoutout every now and then.
As for how Spelling is handling the rumors about her, it appears that she's doing the best she can to remain positive. "I'm strong, I'm amazing, I'm beautiful, I'm wonderful, I'm worthy, I'm loved, I'm brave, I'm sweet, I'm happy, I'm me," Spelling wrote in an empowering Instagram story on Saturday, according to Us Weekly. And while it's clear that Spelling doesn't need fans to tell her how awesome she is, it's heartwarming to know that they're there to remind her of that fact every now and then.
Check out Romper's new video series, Bearing The Motherload, where disagreeing parents from different sides of an issue sit down with a mediator and talk about how to support (and not judge) each other's parenting perspectives. New episodes air Mondays on Facebook.