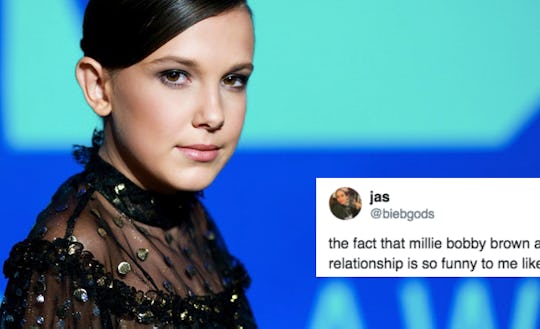 Rich Fury/Getty Images Entertainment/Getty Images
Fans Are Speculating That Millie Bobby Brown Has A Boyfriend — Here's Why
I'm not sure what it is about Stranger Things sensation Millie Bobby Brown that always seems to get the internet so excited, yet so heated. I mean, she has a bunch of co-stars, all around the same age, who get to go about their lives virtually free of dealing with hardcore public opinion about every little thing they might do. But Brown? That girl wears a dress to The Golden Globes and people's heads start to explode. So you can imagine the reaction when reports hit social media that Millie Bobby Brown has a boyfriend. And whether it's true or not, fans simply lost it and their many opinions on the reports are just all over the place. Because Lord knows she's *definitely* the first 13-year-old girl to have a boyfriend (not including me and basically every girl I've ever known or heard of, naturally).
Us Weekly shared the news on Tuesday that a source confirmed Millie Bobby Brown is dating 15-year-old "Chapstick" singer Jacob Sartorius. Romper has reached out to reps for both Brown and Sartorius regarding these reports, but did not receive an immediate response.
The two teens have apparently gone on vacation together, spending New Year's Eve at Disney World in Orlando, Florida, according to Us Weekly, as if that's not the cutest thing ever. Oh wait, this is; Sartorius reportedly gave Brown a big stuffed bear, and she took a picture of herself hugging it on Instagram with the caption; "Thanks for the bear." He replied, "Of course."
I know... scandalous.
Of course, the tweets started to come in once the news hit, fast and furious.
I know everyone thinks they should get to have an opinion about celebrities, and for some reason, Millie Bobby Brown especially. Maybe because she was such a strong actress in both seasons of Stranger Things as Eleven, people feel connected to her. Protective of her. I also wonder if past stories of child stars whose lives did not seem as rosy and sweet as fans were initially lead to believe, people like Drew Barrymore and Judy Garland, both of whom struggled with addiction and fame at very young ages, makes people hyper-concerned about Brown. I get it.
But concern for a child star is not an invitation to make choices about their lives. Nor is it an invitation to make choices for what you think their parents should or should not be allowing. Because this is where things get murky... it's easy enough to look in from the outside and think you know what's going on. But that's where you are; on the outside looking in.
If Millie Bobby Brown is actually dating Jacob Sartorius, if he's giving her giant cuddly teddy bears and they're hanging out at Disney World with her parents... I defy you to tell me about anything cuter happening in 2018. There are plenty of people on Twitter saying they don't think the young singer/songwriter is "good enough" for Brown, actual grown-ups I mean, and honestly? I can't even imagine the sort of person who pulls out their phone and consciously writes those words about a kid on social media. But whatever floats your boat, I guess.
As for Millie Bobby Brown; let her be. Let her be whatever kind of 13-year-old feels natural to her. Let her parents raise her without your input, just like you're raising your kid without their input.
And don't make the possibility of Millie Bobby Brown having a boyfriend somehow ruin your day. The kid is just trying to have a little fun, and if she likes a boy who gives her teddy bears... what's wrong with that picture?
Nothing, I tell you. Nothing at all.
Check out Romper's new video series, Romper's Doula Diaries:
Watch full episodes of Romper's Doula Diaries on Facebook Watch.