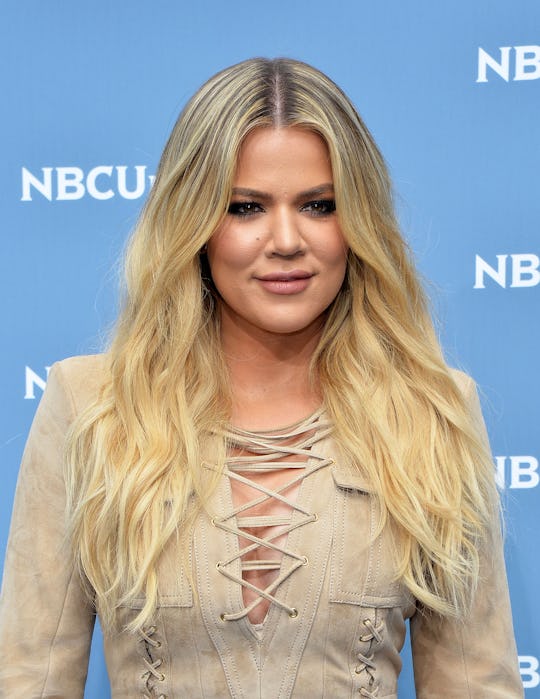 Slaven Vlasic/Getty Images Entertainment/Getty Images
Can We All Agree That Fans' Advice To Pregnant Khloe Kardashian Is Kind Of Problematic?
Throughout the past few months, Khloé Kardashian has been extremely candid about her pregnancy. From forthright admissions about third trimester to sex to feeling *exhausted,* Kardashian is no longer keeping her impending motherhood on the DL. Unfortunately for Kardashian, however, her candor has come with a price. Following a frank Instagram post on Sunday, fans are telling Khloe Kardashian to embrace her pregnancy. Although Kardashian's fans probably mean well, the unsolicited advice is a bit problematic.
In December 2017, Kardashian thrilled fans with a stunning pregnancy announcement. The touching Instagram post was nothing short of ecstatic, and Kardashian thanked fans for sending her positive thoughts while she and her boyfriend, Tristan Thompson, enjoyed the first few months of her pregnancy in private. "Thank you to everyone for the love and positive vibes," Kardashian wrote in the message, according to People. "I know we've been keeping this [quiet] but we wanted to enjoy this between our family and close friends as long as we could privately."
Now that Kardashian has had some time to celebrate the exciting baby news with loved ones, she's happy to share details about her pregnancy with fans. And on Sunday, Kardashian got real with her Instagram followers when she admitted to missing her pre-pregnancy figure.
Kardashian captioned a series of "old pics," according to Instagram:
Old pics. but I'm loving My Revenge Body looks on tonight's episode!! Hi old body. I'll see you very soon! I promise.
This isn't the first time Kardashian has opened up about missing her toned physique. In January, Kardashian captioned a risqué behind-the-scenes shot of herself, according to the Daily Mail: "Body, I miss you."
Although Kardashian has the right to feel whatever she wants about her pregnancy and body, many people flooded the post's comments section to encourage her to "embrace" this stage of her life.
"Embrace your pregnant body in the meantime! It's truly a blessing! You'll get there!! It's just a season in your life. We'll be seeing that rockin body soon. But I'm the meantime, enjoy your pregnancy, that feeling of a life rumbling around inside you," one fan wrote. Another person chimed in: "Your growing a wonderful gift! You should embrace it and not be so eager to get your old body back." "You should be proud of your body NOW your growing a beautiful baby," someone else said.
One person even went as far to accuse Kardashian that her pregnancy is "just a show for now," whatever that means: "Some people think you are not embracing your pregnancy since you had so many problems before and it's just a show for now as you are always talking about getting back skinny!"
Sigh. Where do I even start?
The most problematic thing about these comments, in my opinion, is that they assume Kardashian isn't happy or appreciative about her pregnancy. Of course, this couldn't be farther from the truth. Going back to Kardashian's initial baby announcement, she gushed, according to Us Weekly: "My greatest dream realized! We are having a baby!"
Yep, it's no secret that Kardashian has dreamt about becoming a mom for years. Kardashian reminiscing about her pre-pregnancy bod doesn't make her ungrateful — it just makes her honest.
Furthermore, it's no one's place to tell another person how to feel about their pregnancy and all of the changes it can bring. Some people have a rough go of pregnancy while others skate through the nine months without any issues. There are people who want to hit the gym shortly after giving birth (looking at you, Blake Lively) and there are some parents who don't. Every person is different and it's not OK to assume that someone doesn't appreciate their pregnancy just because their experience might be different than your own.
It's also important to remember that fitness is very important to Kardashian. I mean, Kardashian hosts a show called Revenge Body, for crying out loud. It makes total sense that Kardashian is missing her pre-baby body when you consider it's what her empire, and most of her identity, is about.
So, one can only hope that Kardashian's well-intentioned fans cool it with the pregnancy advice during these next two months because she deserves to enjoy this time in her life without any judgment. Kardashian has waited a long time for this moment, after all.
Check out Romper's new video series, Bearing The Motherload, where disagreeing parents from different sides of an issue sit down with a mediator and talk about how to support (and not judge) each other's parenting perspectives. New episodes air Mondays on Facebook.