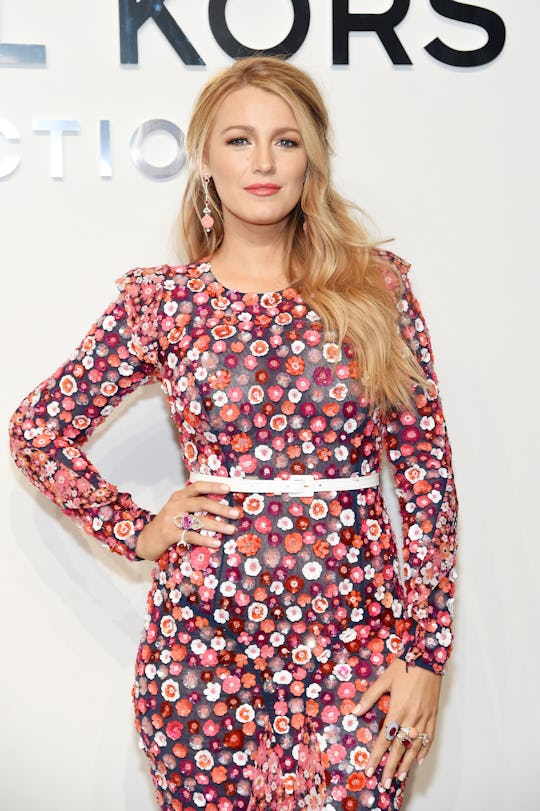 Jamie McCarthy/Getty Images Entertainment/Getty Images
Parents Are Praising Blake Lively's Honest Instagram Post About Her Postpartum Body
It's no secret Blake Lively is one of the most relatable and funny celebrity moms around. From Lively's hilarious banter with her husband, Ryan Reynolds, on Twitter to her quips about co-parenting, Lively tends to be a big hit with parents. And if you're all about famous parents being real, you'll probably appreciate Blake Lively's candid message about her postpartum body. The note is as honest as it gets.
In September 2016, Lively gave birth to her second daughter, Ines, according to Us Weekly. Prior to delivering little Ines, Lively shared a hilarious and frank anecdote about being pregnant in New York during the summer months.
Lively joked, according to PEOPLE: "It should be illegal to be pregnant in New York in July… I swear, I'm going to make my water break just so I can cool down."
Of course, this is the type of refreshing transparency fans have become accustomed to with Lively. So, it should really come as no surprise that Lively opened up about her postpartum body in a forthright message to fans on Monday via Instagram.
Lively captioned a shot of herself post workout, according to E! Online:
Turns out you can't lose the 61 lbs you gained during pregnancy by just scrolling through instragram and wondering why you don't look like all the bikini models. Thanks @donsaldanio for kickin my A double S into shape. 10 months to gain, 14 months to lose. Feeling very proud.
Lively's post quickly generated a flurry of comments from parents praising her for being so "honest" about her weight gain and candid about the work she did to lose the pounds.
"You look incredible! And thanks for being honest and real about fitness and weight gain," one fan wrote. Another chimed in: "Thanks for keeping it real @blakelively. I love following you." "Love the honesty," someone else said.
And Lively's supporters aren't wrong about her being honest here. It's not common for celebrities to be so transparent about their bodies and fitness challenges, especially where it concerns famous parents. More often than not, celeb moms tend to keep their pregnancy weight gain private (which they have every right to do, by the way) and it's incredibly rare that you see them sharing this info to their social media followers.
Not to mention, Lively definitely kept it "real" by admitting that she compares herself to "bikini models." Many people compare themselves to strangers on social media and it's not uncommon, even for celebrities (Hills alum Whitney Port recently admitted to this habit), to get caught up in this treacherous game.
That all being said, it's important to recognize that parents shouldn't feel the pressure to lose weight after they have a baby. As many parents already know, there's this societal pressure for parents to "bounce back" after they give birth, which is really overwhelming and unfair, to say the least. Not to mention, there's no right or ideal way for a person to look post-delivery. Every postpartum body is different and these differences should be celebrated instead of scrutinized. Each person deserves the right to be happy and confident in their own skin, regardless where they might be in their postpartum journey.
Not to mention, few parents have access to the amenities Lively's fame and her impressive net worth afford her. It goes without saying that a good percentage of parents don't have personal trainers to call upon when they want to workout or nannies to look after their kids while they're at the gym. It's worth pointing out that Lively is in an unique situation, which is something parents should probably consider if they compare Lively's journey to their own.
Of course, this is all not to say that Lively should feel bad about her progress because she has money and a personal trainer. Lively is clearly confident and happy about her postpartum body, which is amazing and is what's most important. Lively worked hard to achieve her own personal goal and I give her major props for reaching this milestone.
Check out Romper's new video series, Bearing The Motherload, where disagreeing parents from different sides of an issue sit down with a mediator and talk about how to support (and not judge) each other's parenting perspectives. New episodes air Mondays on Facebook.