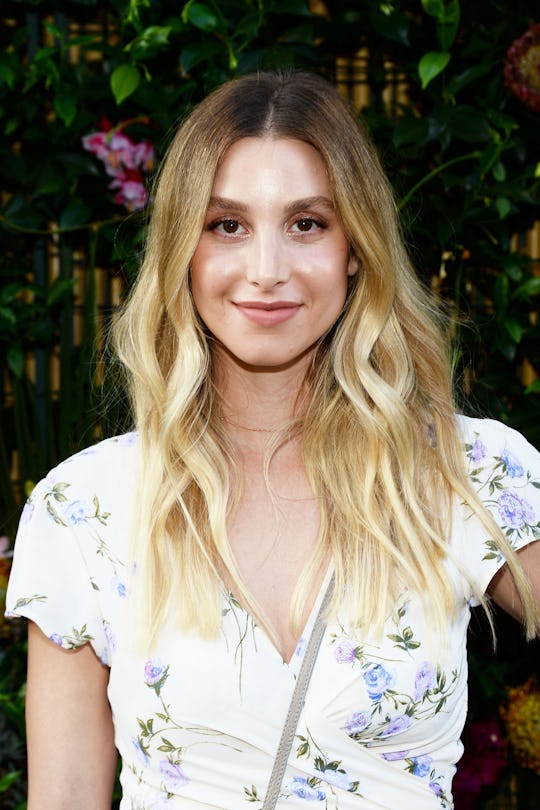 Matt Winkelmeyer/Getty Images Entertainment/Getty Images
Every Parent Will Relate To This "Unhealthy" Mom Habit Whitney Port Is Trying To Ditch
Ever since Whitney Port gave birth to her first child in July (can you believe it has six months already?), she has been quite candid about her new life as a mom. From concerns about postpartum sex to breastfeeding issues, Port has covered just about every parenting topic. And on Wednesday, Whitney Port got *real* about this "unhealthy" mom habit that many people will likely empathize with. Hint: It involves social media.
At an interactive panel on parenting earlier this week, Port opened up to Us Weekly about a not-so-great habit she developed post-baby. According to Port, shortly after she welcomed her son, Sonny (such a sweet name, btw), she started comparing herself to other parents on social media. Sounds familiar, no?
Port explained, according to the outlet:
I look at photos and I'm like, 'Oh my God, how did they get themselves together and look so cute?' or 'How do they keep their house so clean.' I am constantly comparing myself and it's so unhealthy.
For starters, I've got to give Port props for recognizing how this common practice isn't the best thing for her state of mind. It takes a lot to admit that a habit is hurtful because that type of reflection requires a level of honesty that might be uncomfortable. To admit you compare yourself to other people is to also admit that you think you fall short in some capacity. Which, of course, is clearly not true in Port's case. Port is killing this whole parenting thing, and so are all the other parents out there who can't look at someone else's Instagram feed without turning on their inner-critic.
Not to mention, I think it's brave that Port is making this admission as someone who on the surface appears extremely put together and "perfect." Because when I look at Port's seemingly glossy Instagram photos, I'm wondering how it's possible for a working mom to look so flawless when someone like me, who is childless and has more free time, can't muster up the energy to fully comb through her dry shampoo so it doesn't look like she has a head full of dandruff.
But, that's kind of Port's point, right? Social media is all about appearances, and you never know what another person, especially another parent, is going through based on something as insignificant as pictures. And it's "normal" to compare yourself to others because that's what society teaches people to do. It's second nature for a lot of people, at this point.
So, I bet a lot of moms out there are really comforted by the fact that Port, former reality TV star of Hills fame, compares herself to other people too. It's just more proof that parents are bonded together by a universe of similarities unrelated to wealth, status, or looks.
But wait, Port's #MomLife confessions didn't stop at social media. Port also shared that she misses portions of her old life pre-Sonny — a confession most moms feel so guilty about. Port told Us Weekly:
There are so many days where I want to relax and watch TV and I just can't do that anymore. I just miss free time.
I bet it's safe to say all the moms reading this can relate to Port's desire for a little R and R. What busy parent doesn't miss the days of lounging around and watching Netflix? It's all about the simple pleasures. And if you're about to become a parent soon, be sure to appreciate your television (and quiet) while you can.
The good news is that Port has a creative outlet to find solace in when she's feeling broody about social media or wistful about her life pre-baby.
Port's YouTube series, "I Love My Baby, But..." gives her the chance to vent about parenting issues and to connect with other moms who might be going through the same thing.
In short, Port is working on it, just like any mom going through parenthood for the first time. And it's awesome that she's being so candid about her journey.
Check out Romper's new video series, Romper's Doula Diaries:
Watch full episodes of Romper's Doula Diaries on Facebook Watch.