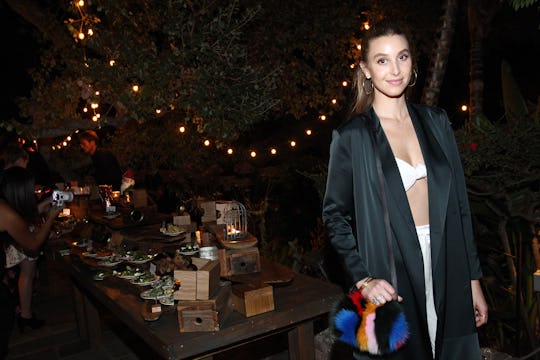 Tommaso Boddi/Getty Images Entertainment/Getty Images
Whitney Port Has Welcomed A Son, & His Name Is Adorable
It's a big time for the ladies of The Hills. This past week, Whitney Port became the latest of the reality starlets to give birth, and many fans are eager to know, what did Whitney Port name her son? Turns out that Port and her husband, Tim Rosenman, decided to get literal with their naming. Port revealed in a Monday blog post that their son's name is Sonny Sanford Rosenman.
The cute moniker that Port and Rosenman chose is often used as a nickname for names like "Santino," although it seems that this baby is "Sonny" all the way. Perhaps, if he's inherited his mother's flair for publicity, he'll one day be more recognizable than other famous Sonnys, like Sonny Bono, or the fictional Sonny Corleone from The Godfather. (Unlike the latter, hopefully he'll stay far away from a life of organized crime.)
Port was clearly thrilled to welcome her child into the world, although she revealed that the idea of having a baby took some getting used to. Port documented her pregnancy in video blogs, serving up some mom-to-be realness about how tough the process could be. She said that, when she found out she was pregnant, "I was definitely freaked out, and not sure if I was fully ready," and that all those not-so-fun symptoms like morning sickness hit her hard.
But all of that changed when little Sonny made his grand entrance into the world.
As Port wrote on her blog when she announced Sonny's birth,
We've all heard mothers give the same speech about how life changing the love for your baby is, and it's not like I didn't believe it or anything, but I guess I couldn't actually connect to those exact feelings until the doctor placed Sonny onto my chest. I love him and feel protective over him, but more than anything, I'm just like obsessed. I can't stop looking at him, or thinking about him when I am in another room. It's a bit like getting a toy you really really wanted as a child. There was all the anticipation and build up, and then you open it and you love it. Unlike the toy, however, I am obviously never going to get sick of Sonny, and he poops.
It seems likely that, even though Port announced on Instagram that she'd try not to be "one of those moms whose feed is dominated by their baby," we're going to be seeing a lot more of adorable little Sonny from here on out. And thank goodness for that. We could all use a little more sunshine (sonny-shine?) in our lives right now.