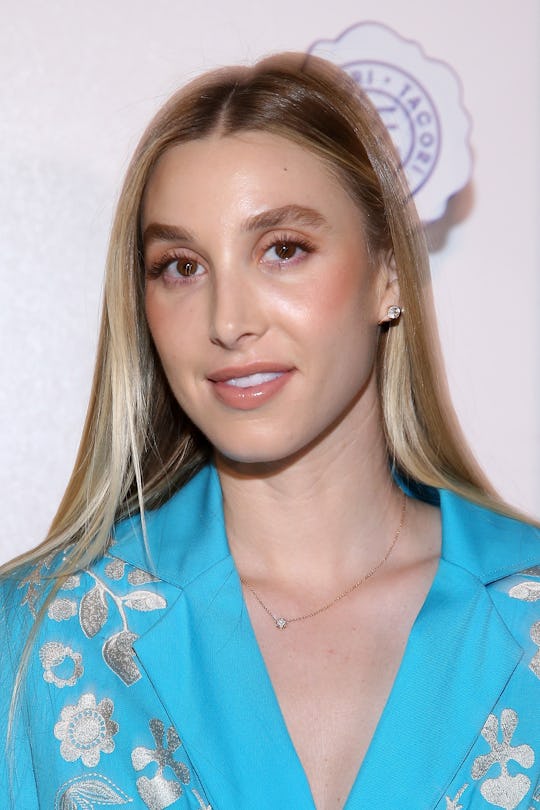 Jonathan Leibson/Getty Images Entertainment/Getty Images
Whitney Port Gets Real About Pregnancy
Not everybody loves being pregnant. Sure, for some people it's all glowing, great hair and skin, perfect little basketball-shaped baby bump, and adorable outfits. Which is great, guys, really, really great. But it's just not the reality for every mom out there. Not even famous moms love being pregnant every single day of the week. Famous moms like Whitney Port, who opened up about her pregnancy recently on her new video blog about being pregnant.
The Hills' star Port shared her video blog, filmed by husband Tim Rosenman, via Instagram. In the video, which is the first in a series where Port will document her pregnancy, she admitted she doesn't completely love being pregnant. Actually, after a brief discussion with Rosenman, Port decided to name the blog, "I Love My Baby, But I Hate My Pregnancy, By Whitney Port." Clearly, she won't be pulling any punches here. Port, who announced she was pregnant with her first child in February, clarified in the description of the video (which is available in it's entirety on YouTube):
Please do not get alarmed by the title! I know 'hate' is a strong word but I think in that very moment, that was how I was feeling and so we stuck with it. As the pregnancy progresses and my symptoms subside, I hope that's not how I will feel anymore! I already love our baby to pieces but feeling yucky all the time is a 'hate-able' thing!
She explains in the video (laughing the whole time, I should point out; kudos to the girl for keeping her sense of humor) that she "is feeling shitty this morning, so Timmy decided to set up a camera and put it at the foot of my bed, so I could share with you all the terrible things going on in my pregnancy."
Port does clarify that she is "by no means telling you guys what to do, or how to deal with your pregnancy. Just thought, from one pregnant woman to another, that it would be fun to share the journey with you."
And what a realistic, honest journey it is turning out to be. Not the glossed over, perfect pregnancies we so often see on celebrity Instagram posts, complete with high quality filters, enviable baby nurseries, and constant sunshine. Instead, we get treated to a real pregnant woman, lying in bed in her robe and eating a yogurt in her second episode, telling everyone she wasn't super excited to find out she was pregnant. Port took a pregnancy test as a precaution before having an MRI. She tells the beautiful story of how she found out she was expecting:
I peed on a stick and left it on the bathroom counter, which was really gross.
Her initial reaction?
I was definitely freaked out, and not sure if I was fully ready. Like, my initial reaction felt different from how I feel a lot of women feel when they find out.
While Port has gotten more enthusiastic about her baby, her ambivalence towards all of the difficulties of pregnancy is so natural. And so honest. And, in a world where everyone has the ability to filter out all of the stretch marks, morning sickness, back pain, and every other part of pregnancy that isn't Instagram-worthy, her openness is not just welcome, but necessary. Her video blog will come out once a week, and we'll be sure to watch.