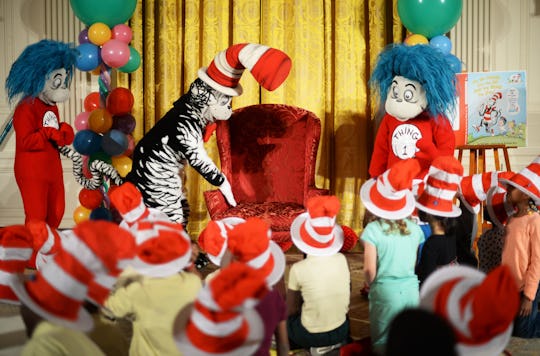 JIM WATSON/AFP/Getty Images
Fans Celebrate Dr. Seuss' Birthday With #ReadAcrossAmerica
There are books to read with your kids when you want them to learn. Learn to use the potty, or go to bed on their own, or learn how to deal with a baby in the family. There are picture books meant to distract, to give you five extra minutes of peace and quiet in the car so you can hear yourself think. And then there are Dr. Seuss books — so beloved that fans are celebrating Dr. Seuss' birthday with a special #ReadAcrossAmerica event.
Dr. Seuss books weren't just childhood stories. They were events. Silly, rhyming, touching tales that teach us about life (almost, it seems) by accident. You didn't read his books to learn, I don't think. You read them to really see.
Today, March 2, is National Dr. Seuss Day, when we celebrate his legacy of making reading fun. Across the country thousands of schools, libraries and more will be celebrating with #ReadAcrossAmerica on what would have been the 112th birthday of Theodore Seuss Geisel (Dr. Seuss), according to Seussville.com. If he were still alive, we could have even sung him his special birthday song:
In Katroo, every year, on the day you were born, they start the day right in the bright early morn — when the Birthday Honk-Honker hikes high up Mt. Zorn, and lets loose a big blast on the big Birthday Horn. And the voice of the horn calls out loud as it plays: "Wake up! For today is your Day of all Days!"
That's straight out of Seuss' book, Happy Birthday to You!, in case you didn't know. But how else are fans planning to pay homage to the great writer/illustrator? Why by reading, of course. And showing their love for him on Twitter with the hashtag #ReadAcrossAmerica:
Anyone who has read Dr. Seuss has an emotional connection to his words. And with good reason. Dr. Seuss books continue to speak to the silliness, the imagination, that lives in us all. Plus, there is essentially a brilliant Dr. Seuss quote for every one of life's stumbling blocks.
When you're hesitant: "You have brains in your head, you have feet in your shoes. You can steer yourself in any direction you choose."
When you're feeling insignificant: "A person's a person, no matter how small."
When you're afraid: "You'll miss the best things if you keep your eyes shut."
So today, take a moment to celebrate Dr. Seuss. Find yourself a pocket of time and a cozy corner of a well lit room, curl up and go think all the thinks you can.
Happy Birthday, Dr. Seuss.