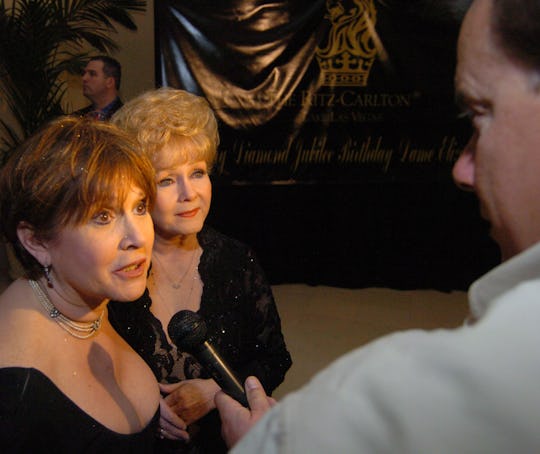 Handout/Getty Images Entertainment/Getty Images
Fans React To Debbie Reynolds' Death
After being rushed to the hospital on Wednesday afternoon, longtime beloved actress Debbie Reynolds died of complications from a stroke, one day after her famous daughter, actress Carrie Fisher. The fan reactions to Debbie Reynolds' death show that she wasn't just the mom of everyone's favorite Star Wars princess, but a Hollywood star in her own right. The 84-year-old Singin' In The Rain actress was just as beloved as daughter Fisher, who died on Tuesday after a heart attack.
Reynolds was reportedly at Todd Fisher's house going over Fisher's funeral plans when her son had to call 911 because of an apparent stroke. Todd told CNN, "My mother passed away a short time ago. She spoke to me this morning and said she missed Carrie. She's with Carrie now."
Reynolds was a Hollywood star just when Hollywood was becoming Hollywood. She was in Singin' In The Rain and was also nominated for an Academy Award for her performance in The Unsinkable Molly Brown. (Reynolds was akin to J Law, essentially.)
Fisher and Reynolds had a troubled relationship because of her mother's fame, which the Star Wars actress wrote about extensively in her memoir, Postcards From The Edge, but later managed to mend fences and carried on a close relationship until their deaths this week.
It's safe to say that both members of the mother-daughter team would appreciate the love and dry humor from their fans mourning their deaths:
Bette Midler wrote, "This is too hard to comprehend. Beautiful, talented, devoted to her craft, she follows Carrie, dead days ago."
That wasn't all the star power mourning Reynolds' loss this week either. Host and comedian Ellen Degeneres wrote, "I can't imagine what Carrie Fisher and Debbie Reynolds' family are going through this week. I send all of my love."
Reynolds said of her daughter in 2011 on Oprah Winfrey's show, "There have been a few times when I thought I was going to lose Carrie. I've had to walk through a lot of my tears. but she's worth it."
She and her daughter had a well documented riff. Reynolds told Oprah of the first time she watched her daughter suffer from substance abuse, "She had collapsed on the set and they had to take her to Cedars Sinai [hospital]. First of all, it was a terrifying night. It was just pouring rain, so you can picture you're in the car with the rain smashing against the windshield and you're crying like mad and you don't know if your daughter is going to be alive when you get there."
Reynolds and Fisher obviously loved each other just as much as any exceptionally talented mother-daughter duo would be expected to, despite any bumps they encountered early on. It's any fan's hope that the two women are debating Hollywood and feminism somewhere up there.