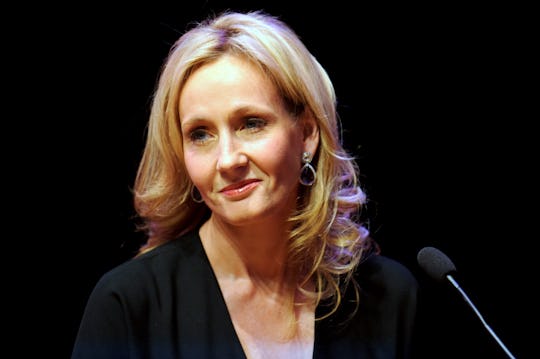 Ben A. Pruchnie/Getty Images
Fans React To JK Rowling's New Children's Book & Basically, Everybody's Got Feelings
It's been more than eight years since the Harry Potter series ended and our hearts were crushed forever. And though JK Rowling didn't go into hiding herself (or even stop writing for that matter), her fans are constantly speculating what the novelist's next move will be. And now, here we are: This morning, it was announced that JK Rowling's next novel will be a kids' book. Immediately thereafter, the Twitterverse erupted in a somewhat predictable fit of joy.
In case you were wondering, Rowling has been busy. She is currently hard at work promoting Harry Potter and the Cursed Child, a two-part play which will expand on the stories we've come to love. And when she isn't rooting for Scotland in the Rugby World Cup, she is tweeting to her 5.8 million followers about her new mystery novel, Career of Evil. Oh, yeah, and she openly talks about HP theories. Can't get enough of that.
So anyway, what do we know so far? For one, Rowling will be penning the book under her own name, unlike she did when she wrote under the pseudonym Robert Galbraith. Though we don't yet know when the novel will grace bookshelves, or what it will be about, fingers crossed more details will spill out soon. In the meantime, though, it's been pretty difficult for most of us to contain our excitement.
Unsurprisingly, Twitter has basically been in a frenzy over the announcement all morning. Here's just a sampling so far of some fan reactions:
Some are hoping that it reaches Harry Potter-status:
...And some are demanding Rowling get writing. Right. Now.
Image: Ben A. Pruchnie/Getty Images