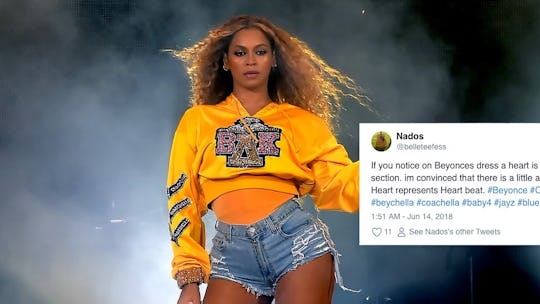 Kevin Winter/Getty Images Entertainment/Getty Images
Fans Think Beyoncé Is Pregnant, & Twitter Is Divided
Beyoncé and her husband JAY-Z are on their On The Run II tour right now, living their best lives. They're performing to sold-out crowds, traveling with their three children, and looking happier than they've ever looked together in this girl's opinion. But I guess that's not enough to keep people happy. It's way more exciting to speculate about what might be going on behind the scenes. Fans think Beyoncé is pregnant after seeing her on tour, and Twitter really can't make up its mind.
As we consider the validity of these speculations, I feel like it's important to say, yet again and right out of the gate, that it's none of our business. Not even if Queen Bey is an ultra famous superstar whose light burns brighter than anyone else on the planet... even then, she does not owe us pregnancy news. Sure, even I wish we got it sometimes just because I love me a good little picture of a baby or a pregnant lady. But she's allowed to keep her private life just that; private. Or turn it into a stunning visual album called Lemonade, whichever. And to give Bey her fair share of credit here, the mother of three did bless us all with the most iconic birth announcement in the world when she took to Instagram to let us know she was expecting twins.
Back in February 2017, Bey broke the internet with a picture of herself in a veil and a baby bump on Instagram with the caption:
We would like to share our love and happiness. We have been blessed two times over. We are incredibly grateful that our family will be growing by two, and we thank you for your well wishes. - The Carters
She, JAY-Z, and their 6-year-old daughter Blue Ivy welcomed twins Rumi and Sir last June 14, and announced their birth with another epic Instagram post.
The twins just turned one this week, and now fans are ready for Bey to be pregnant again, it seems.
What are the speculations based on, you ask? Oh, some people thought she looked a little puffy or something.
The speculation was not helped along by a recent report by The Star, where sources who claim to be close to Beyoncé said that doctors were monitoring her closely during her Coachella performance in April:
She's rushing to change her costumes so that she can keep the bump covered up for as long as possible. Only a few have been entrusted with the news, but it doesn't take a genius to figure out what's going on.
I feel like anyone who is close to Queen Bey should just count their lucky stars and keep their fool mouth shut, but what do I know?
Despite this report, there were tweeters aplenty who figured Beyoncé might just be having a bloated day, or wait? Didn't she just give birth to twins a year ago and she's a human person who might need recovery time?
I think these rumors are damaging for a couple of reasons. First of all, can we give a girl a hot minute to recover from having twin babies please? I've only given birth to one person at a time and I can tell you... it's not for the feint of heart. My second request is that we stop taking a magnifying glass to a woman's body. I thought we all had a meeting and decided we wouldn't do this anymore, but I guess a few people missed the memo.
And finally, if Beyoncé is pregnant, don't spoil it for everyone. I want to find out as Mother Nature intended, via an insane photo shoot on Instagram. Why would you want to ruin that for me?